Casa Fat Radish
Where:Rio de Janeiro

Why:World Cup Quarter Final

When:Summer 2014

Who:Me, some Brazilians, some French, some Germans.
Moody sunset from Ipanema Beach.
The most perfect casa for a pop-up hotel, right at the top of Santa Teresa.
Beautiful, airy room with a view of Sugarloaf Mountain.
Local fruits, freshly baked deliciousness, blue skies, I mean…
Boom! This is the view you're greeted with at Casa Fat Fadish.
The beautiful Casa Fat Radish.
That's my English friend Barney in the pool. He's in Rio making a documentary for the BBC about the World Cup from the point of view of residents of various favelas. Fascinating stuff.
Fat Radish co-owner, the delightful Phil Winser working. And breakfast, which was conveniently replenished until noon each day.
Be a tourist, it's ok. Do the Sugarloaf Mountain cable car. Honestly the best view in the world!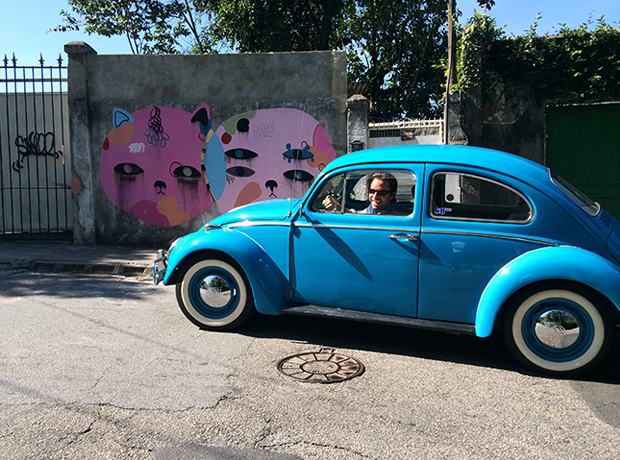 Not staged! I went for a run and bumped into Andy. Right here, in front of this great street art, in Santa Teresa.
The dining room served 6 courses of delicious Fat Radish favorites.
Every day there was an open bar with delicious cocktails provided by Absolut Elyx.
The legendary Maracana Stadium.
A boyhood dream...World Cup game in Brazil! France vs. Germany...Ben vs. Phil.
One of my favorite things about the Casa is the incredible driveway.
Highs & Lows
The house itself is stunning. Grand and airy and positioned right at the top of Santa Teresa with absolutely stunning views of Rio.

Rio is hot...in so many ways. Thankfully where the house is located it's at least ten to fifteen degrees cooler than the beaches below. Given that it's ninety degrees in the winter, that's a plus!

The food. I mean, it's a Fat Radish pop up...there is always delicious food being served.

The bar, provided by Absolut Elyx, was set up by Argentine mixologist Tato. Excellent cocktails at all times.
The Barometer
Design

Website

Life Changing

Environmental Consciousness

Overall Value
Night's Sleep

Service

Amenities

Stealable Stuff

Refer a Friend
Total: 45/50
Important Bits
Type

Pop-up hotel for the World Cup.

Vibe

Braziligence.

Location

The top of Rio in Santa Teresa, fifteen minutes from the beaches.

Rooms

7

Music

Appropriately serene in the mornings, appropriately Brazilian in the evenings with DJs for day parties.

Year Opened

Summer 2014 only.

Designed By

Phil Winser
Pool/Gym

Pool, yes. And the best roads for running in Brazil!

Restaurant

The best.

Bar

Yes, provided by Absolut Elyx.

Wifi

Yes.

Children

Bring them!

Price

Can't put a price on this kind of experience.
Bar Do Mineiro in Santa Teresa
Bar do Mineiro - Rua Paschoal Carlos Magno - Santa Teresa, Rio de Janeiro - State of Rio de Janeiro, Brazil
For the ginger cachaca.
Sugarloaf Mountain
Sugarloaf Mountain - Urca, Rio de Janeiro - State of Rio de Janeiro, Brazil
The views are incredible!
APRAZIVEL
Aprazível - Rua Aprazível - Santa Teresa, Rio de Janeiro - State of Rio de Janeiro, Brazil
A tree house restaurant in Santa Teresa with more amazing views.
Casa Fat Radish
R. Dr. Júlio Otoní, 444 - Santa Teresa, Rio de Janeiro - State of Rio de Janeiro, Brazil