Jupiter Hotel
Where:Portland

Why:To explore the city and eat our faces off at Feast Portland.

When:Late September 2013

Who:Me & my new favorite travel partner Nicole.
The burger joint across the street, where you can sober up with a late night snack while being serenaded by old school R&B jams on the juke box.
Our double room a.k.a "The Deuce". Perfectly spacious for traveling with a buddy, with comfy beds and nice down comforters.
Welcomed by a cold bucket of beers! Oh so Portland.
#chalkboarddoors
Eco-friendly Natura bath products.
The Bastille show at Doug Fir.
Event space at the center of the property.
The fresh & stylish lobby also serves as an art gallery and has beautiful reclaimed wood features.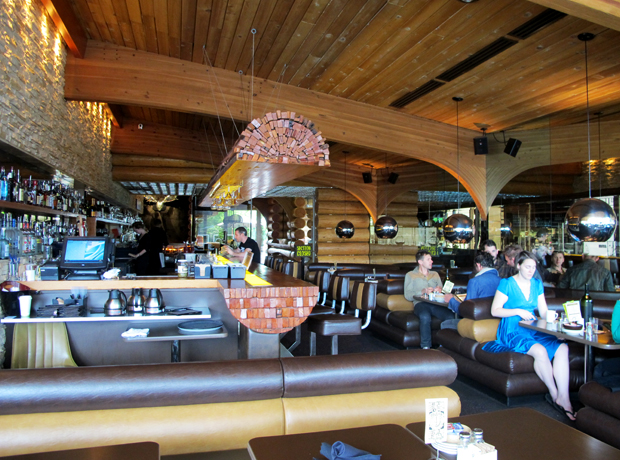 Inside Doug Fir Restaurant...lumberjack meets space cowboy decor with hot cakes to write home about.
Jupiter's exterior, giving off the motor meets modern vibe.
Highs & Lows
Cozy, clean, minimally stylish rooms, a great restaurant and stellar music venue make it the perfect place to shack up for a weekend in Portland.

The staff, like most people we met in Portland, are above and beyond friendly and helpful in the most genuine way.

Doug Fir Lounge - seriously great music venue right outside your door.
Our room was positioned in what was meant to be the property's quieter "chill zone", but it's hard to muffle the constant partying going on outside. Then again, why would you want to?

Would love to have seen some locally produced snacks in the mini bar!

Girl Alert: no full length mirrors in the rooms.
The Barometer
Design

Website

Mini Bar

Life Changing

Environmental Consciousness

Overall Value
Night's Sleep

Service

Amenities

Stealable Stuff

Refer a Friend
Total: 44/50
Important Bits
Type

A mid-century motor inn in a boutique hotel's body.

Vibe

So friendly, so cool, so rock n' roll and SO Portland.

Location

In Portland's fast developing, furiously hip Industrial District. Tons of great vintage shops, bars & restaurants within walking or biking distance.

Rooms

80

Music

Doug Fir Lounge is one of Portland's best music venues. How fun to be able to stumble out of a concert and into your room? The sound is incredible, and the space is intimate...even a sold out show isn't packed to the gills.

Year Opened

2004

Designed By

The owners, Tod Breslau and Kelsey Bunker.
Pool/Gym

No - but they have nice bikes for rent (and this is the bike-friendliest town of all)...and they offer $15 passes to the nearby Portland Rock Gym.

Restaurant

Doug Fir. Imagine a modernized HoJo's (in the best way possible) with a variety of delish comfort foods like chicken fried steak and a lumberjack breakfast.

Bar

Creative signature cocktails with names like The Two Step and Wingman. We enjoyed a stellar hot toddy on a rainy Sunday.

Wifi

Yes - Free.

Children

Yes.

Price

They're friendly on your wallet too. Rooms start from a low $129/night.
A strip club
927 SE Morrison St, Portland, OR 97214
that's right. pdx has the most strip clubs per capita in the country and i'm telling you, they're COOL!
Salt & Straw
927 SE MORRISON STREET PORTLAND, OR 97214
best. ice cream. ever.
right down to the "baked potato" flavor.
Ava Gene's
3377 Southeast Division Street Portland Oregon
farm-to-table trattoria by stumptown's duane sorenson, named the #5 new restaurant in the US by bon appetit
Rag & Bone x Hunter Boots
800 E Burnside St, Portland, OR
fall + winter can be a bit damp
and these are so dang cute.