Nizuc Resort & Spa
Where:Cancun

Why:A wedding and work.

When:December 2015

Who:The team.
Always a beach day at Nizuc!
The world's greatest palapa.
Guest room entrance.
The guest rooms – so many textures!
Just a few hints of color.
Dreamy grounds.
Where's waldo?
Sunken daybed for relaxing the days away...
The gorgeous Asian restaurant.
Love the walkways.
Inside La Punta Grill – rustic luxury at its finest.
Adult pool, private beach, and La Punta Grill.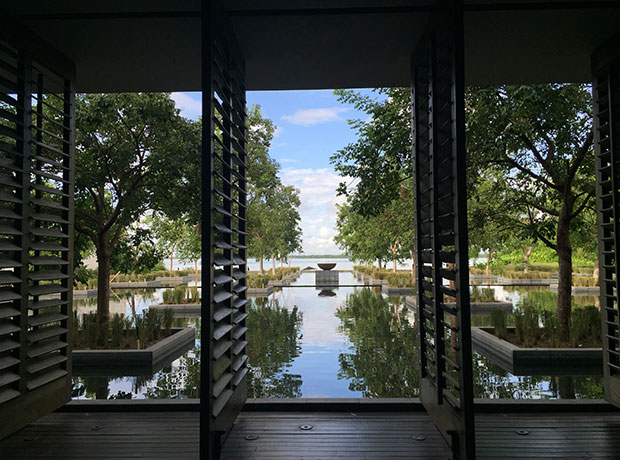 An amazing arrival experience – talk about symmetry.
Highs & Lows
The hotel design is spectacular… making use of indigenous materials, native vegetation, water elements, and symmetry .

The rooms are huge – mine had a private swimming pool!

The two private beaches are a very rare amenity in busy Cancun and make the experience at Nizuc different from any other hotel in the area… you forget you are in Cancun, which can definitely be a good thing!

The different bars and lounges around the property made night time at the hotel just as entertaining as the day
The property is huge – 29 acres, so getting around can be challenging.
The Barometer
Design

Website

Life Changing

Environmental Consciousness

Overall Value
Night's Sleep

Service

Amenities

Stealable Stuff

Refer a Friend
Total: 49/50
Important Bits
Type

A private luxury beach resort focused on design and service.

Vibe

Rustic luxury and simple sophistication.

Location

Punta Nizuc in Cancun.

Rooms

274

Music

Didn't notice any.

Year Opened

2013

Designed By

Mexican architect Alejandro Escudero.
Pool/Gym

Yes, the hotel has FIVE swimming pools (two adult only) and a gym.

Restaurant

Six different restaurants.

Bar

Yes, there are quite a few.

Minibar

Yes, some special items.

Wifi

Yes

Children

Yes, great kids club!

Price

Justifiably pricey.