Pico do Refúgio
Where:São Miguel, Azores

Why:Volcanic island getaway-meets-esoteric music festival.

When:March 2016

Who:Solo
Momentary bliss through the echoes of silence pasteurized by sunlight emanating through Japanese cedar trees.
Like a sight from a dream, I wondered, is this heaven?
A perfect reflection against the 18th century edifice at the basin of the property.
The original 17th century edifice built between the 16th and 17th centuries. The Azorian painter and writer, Luís Bernardo Ataíde used to call this his country home – while architect Bernardo Brito E Abreu spent several years restoring the property of which he is the fifth-generation owner.
​Problem of the day: the difficult choice of lounging in my aboded 86 meter ​loft space or jetting for the outdoors.​​​
Island horticulture pervades each room at Pico do Refúgio
"Queijo" – Fresh, farm-made white cheese served on banana leaf – ruled the breakfast table.
Walking up to the main house at Pico do Refugio vaguely resembles an ascent to Heaven (or so I would expect). A winding path leads you to a circular courtyard where the main church sits against a backdrop of endless hues of green.
Something like a phenomenon.
When the grass insists that you "take off your shoes and stay a while."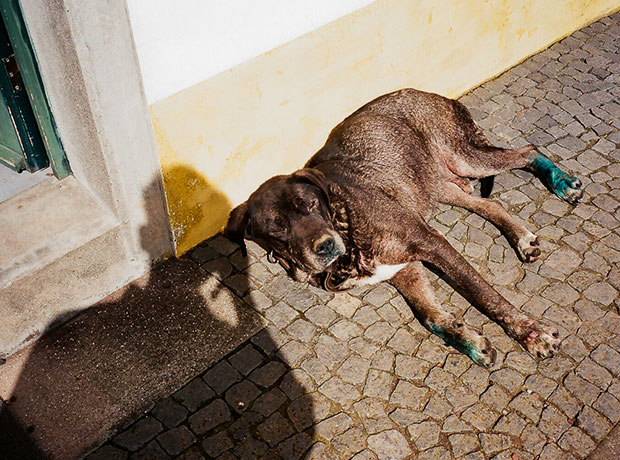 "Mandraque" the dog, resting in the sun at any time of day.
Like a sight from a dream, I wondered, is this heaven?
Creative tools plus my seeing eye glasses.
A view of Ribeira Grande, one of the small towns nestled within the Sao Miguel island of Azores – perfectly witness from atop Pico do Refugio.
One of the many plants I spoke with and shared tea and jovial conversation during my tour of the property.
Two trees greet you on the path leading to Pico do Refugio mansion (built in 17th-century)​​.
Highs & Lows
In-room fireplace is truly on point. Who would even expect such a thing?

Everything about Pico do Refugio is great. This isn't simply a hotel – its an experience combined by a magical landscape and sophisticated farm-style hospitality unlike any other place I have been.

Queijo, soft cheese served on banana at breakfast is absolutely killer. I would return to Pico just for that alone.
After a long day of hiking and bathing in thermal baths, it would have been convenient to have some more snacks in the room itself.

The weather was a bit too cold for the pool (but now I'm just being picky).

Manuel the groundskeeper accidently walked into my room while I was inside, but only to start-up the indoor fireplace. It was funny to watch his surprised and embarrassed reaction, but at a place like this, you welcome visitors like an islander would: with a smile.
The Barometer
Design

Website

Life Changing

Environmental Consciousness

Overall Value
Night's Sleep

Service

Amenities

Stealable Stuff

Refer a Friend
Total: 50/50
Important Bits
Type

Country hotel / artist residency

Vibe

Marigold-coloured Colonial architectural structures located on a sun-drenched tea farm coincidentally housing an artist residency.

Location

Off a dirt road next to a farm.

Rooms

8

Music

Silence

Year Opened

2013

Designed By

Restored by Luis Bernardo Brito E Abreu.
Pool/Gym

Stunning outdoor pool where scuba diving lessons are often held.

Restaurant

Daily breakfast, farm-to-table.

Bar

No

Minibar

Bottle of cold water.

Wifi

Yes - free!

Children

You can, but I wouldn't if I had the choice.

Price

Conveniently and assumingly affordable.
Furnas thermal baths
Furnas, Portugal
3euro entrance into a manicured swathe of volcanically heated pool amidst a jungle-like landscape.
The "Agricultural" steak restaurant
Recinto da Feira | Campo de Santana, Ribeira Grande, Sao Miguel 9600-096, Portugal
Just 20 minutes outside of town (Sao Miguel holds more cows than humans).
Lagoa do Fogo
Lagoa de Fogo
In Lagoa Das Sete Cidades
Pico do Refúgio
Please enter an Access Token on the Instagram Feed plugin Settings page