Siete Lunas
Where:Sayulita

Why:Chasing sun and surf.

When:October 2015

Who:My boyfriend and me.
Mexican sunset.
Each guest bungalow feels like a fancy jungle tree house.
The view from my Brooklyn apartment is…different than this.
Dining views.
Plunge pool—perfect for cooling off after a sweaty trek back from town.
A delicious breakfast is served each morning. This is just the first course!
Communal lounge area by the pool, in case you need a break from the sun.
Ideal poolside situation.
Playa de los Muertos is a quieter alternative to the main beach in town.
Where margaritas are born.
View from our balcony—the lineup of cliffside bungalows overlooking the ocean.
Highs & Lows
Whether you're having coffee on your balcony overlooking the Pacific or cooling off in the cliff-side pool, everywhere you look the views are jaw-droppingly beautiful.

Beds are incredibly comfortable with fresh, crisp linens.

With only seven villas, the hotel feels super private and quiet. We spent most afternoons at the pool, yet the only time we saw other guests was at breakfast.
You are in the jungle, so expect to encounter some wildlife. Geckos scurry along roofs and walkways and the partially open-air bungalows do allow some little bugs in at night. The mosquito nets aren't just decorative.

The walkway from the front gate to the villas is a steep incline, but the staff is more than happy to help you bring up your bags or give you a lift on a golf cart.
The Barometer
Design

Website

Life Changing

Environmental Consciousness

Overall Value
Night's Sleep

Service

Amenities

Stealable Stuff

Refer a Friend
Total: 48/50
Important Bits
Type

Boutique Hotel

Vibe

Low-key luxe jungle enclave.

Location

Perched on a cliff overlooking the ocean. It's a 5 minute walk to the serene Playa de los Muertos and a 15 minute walk to the center of town.

Rooms

7

Music

Jungle sounds with pleasant jazz by the pool.

Year Opened

2012

Designed By

Mariana Arregui Trujillo
Pool/Gym

Pool, yes. Gym, no.

Restaurant

No restaurant, but a complimentary breakfast is prepared each morning. You can book a personal chef to cook a private dinner at the hotel for about the price of a NYC date night.

Bar

Pool bar, sometimes manned by a staff member.

Minibar

Stocked with Coca-Cola, Pacifico & water with a larger wine, beer, and liquor list available.

Wifi

Free WiFi in the communal spaces, but the villas are internet-free.

Children

Leave em!

Price

Four star luxury at a two star price.
Check out Artefakto
Delfin 15-10, centro, 63734 Sayulita, NAY, Mexico
For vintage textiles and chic jewelry.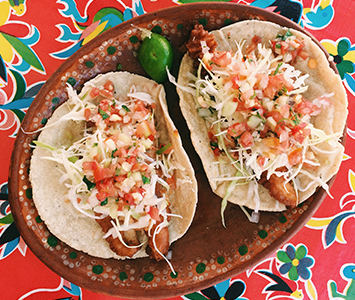 Mary's
Avenida Revolucion, Sayulita, Mexico
The best fish tacos in town.
WildMex
150-G, Calle Pelícanos, Sayulita, 63734 Sayulita, Nayarit, Mexico
No need to lug your boards from home, WildMex has a great selection of rentals. A flat weekly rate allows you to try out as many different boards as you like.
Siete Lunas
Camino Sin Nombre #714, Sayulita, Mexico
Please enter an Access Token on the Instagram Feed plugin Settings page