Encuentro Guadalupe Antiresort
Where:Mexico

Why:Quick getaway from LA.

When:October 2014.

Who:My Canadian roadtripping companion.
Smiles that go the distance. The kindness and hospitality of the staff here was our favorite thing.
Rocky outlook.
Siesta here.
Drama.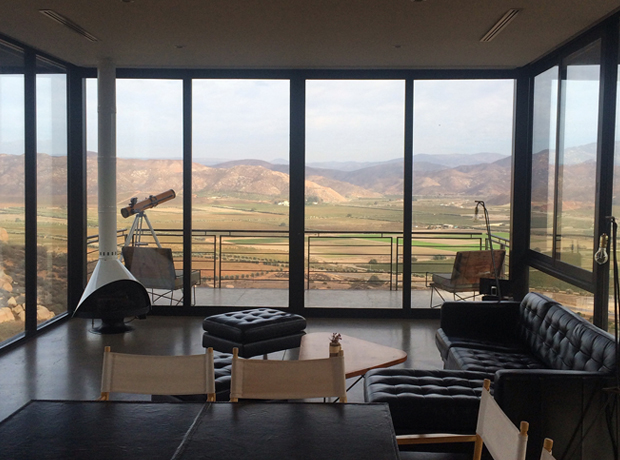 Breathtaking views from the eco-villa.
Poolside.
Magic Hour.
The entry.
At one with the rocks
Eco-lofts scatter the ridge of the valley.
Dramatic landscapes.
Daily ritual.
The sun goes down over the valley.
Encuentro's eco-lofts sit high above the clouds, with breathtaking views over the Guadalupe Valley.
Highs & Lows
Innovative architecture and impactful interior design.

Admirable design philosophy: to not interfere directly with the land and to respect nature in every possible way.

Impressive eco credentials: sustainable eco-lofts built using wood and Corten stell, which changes color, hence allowing the structures to blend seamlessly into the surrounds. Eco-lofts were elevated into place, to avoid contact with the soil, hence protecting natural surrounds.

Staff: support local villages and communities by only hiring local staff.

Service: the most genuinely warm and friendly service we have ever encountered anywhere.

Proximity to Michelin star restaurants.
Too many amazing places nearby to visit, too little time.
The Barometer
Design

Website

Life Changing

Environmental Consciousness

Overall Value
Night's Sleep

Service

Amenities

Stealable Stuff

Refer a Friend
Total: 50/50
Important Bits
Type

"Anti-resort:" eco-design meets wine country luxe.

Vibe

Friendly, eco-conscious design and nature-driven vibes.

Location

Off the grid if you want it to be…but also close enough to endless wining and dining opportunities, if you are in the mood.

Rooms

20 freestanding eco-lofts, 1 residential eco-villa.

Music

Yes. Perfect background tunes.

Year Opened

2012

Designed By

Graciastudio
Pool/Gym

Pool, yes. Gym, no.

Restaurant

Yes - Origen.

Bar

Yes. Lobby bar, pool bar, and wine cellar/tasting room.

Minibar

Yes. A lovely little curated offering. Nuts and olives and wine and crackers. All local.

Wifi

Yes – throughout the property.

Children

Leave them behind. It's a couples thing (or big group – rent out the whole place!).

Price

Totally worth it.
Lazy, long lunches and dinners at our 3 favorites
Carretera Tecate - Ensenada Km 83, Ejido Francisco Zarco, Valle de Guadalupe, 22750 Ensenada, B.C., Mexico
Finca Altozano (super laid back), Laja, and Corazon de Tierra (a more fancy 7-course dining option).
La Guerrerense
22800, Av Adolfo López Mateos 998, Zona Centro, Ensenada, B.C., Mexico
It's worth the 40 minute drive to Ensenada to try some of Mexico's best street food. The ceviche and tostadas at this little street cart will blow your mind.
Visit Vena Cava - the cellar door at Corazon de Tierra
Rancho San Marcos S/N, El Porvenir, 22750 Ensenada, B.C., Mexico
Taste their wines and take home a bottle (or 12) of their 2012 Cabernet Sauvignon.
Encuentro Guadalupe Antiresort
Carretera Tecate-Ensenada Km 75, Valle de Guadalupe, 22750 Ensenada, B.C., Mexico