Memmo Principe Real
Where:Lisbon, Portugal

Why:Girls gone wild.

When:July 2017

Who:Me and three BFF's
The James Bond-like hotel exterior.
Classy lobby vibes.
Obligatory selfie. Don't judge my iPhone 5.
Not pictured: the many mojitos enjoyed on this perfectly landscaped terrace.
Unmade mornings.
Summer still life at the terrace pool.
The urban tropics.
Highs & Lows
Impeccably designed. Super sleek while remaining incredibly cozy—a tough balance to pull off!

Drinks on the terrace. People, I cannot recommend this pastime enough.

The little details, like having fresh Pastel de nata left on our bedside table, the beautifully designed signage, and the Hermès soaps now holding court in my apartment bathroom (sorry, swear I'll pay for them!).

The hotel is a little James Bond: you would never know it's there, but walk down a long driveway and all of a sudden you see this beautiful façade almost built into the mountain.

The female staff wear these adorable color coordinated scarfs adding to their already off-the-charts charm.

Limestone bathrooms. Making toilet culture great again.
The Barometer
Design

Website

Life Changing

Environmental Consciousness

Overall Value
Night's Sleep

Service

Amenities

Stealable Stuff

Refer a Friend
Total: 49/50
Important Bits
Type

Chic, sleek, down-to-earth luxury.

Vibe

Contemporary Portuguese Paradise.

Location

Not sure there's a spot in Lisbon better. In the heart of Principe Real, yet down a hidden, secluded driveway with crazy city views.

Rooms

41

Music

Yes, very good if I remember correctly.

Year Opened

2017

Designed By

Architect Samuel Torres de Carvalho and João Corrêa Nunes.
Pool/Gym

Yes

Restaurant

Café Colonial. I just had the amazing complimentary breakfast, but I heard a rumor about their homemade salted caramel praline ice cream.

Bar

Great terrace bar with a pool, perfectly bearded staff, and oh my god, those mojitos.

Minibar

Who needs a mini bar when waiting in your room is pastel de nata, chocolates and a welcome drink??

Wifi

Yes, fast and free.

Children

Saw some around, but it's more of a singles/couples vibe.

Price

If there was ever a hotel to splurge on (or to expense) this would be it.
Pharmacia
Pharmacia, Lisbon, Portugal
For dinner or drinks.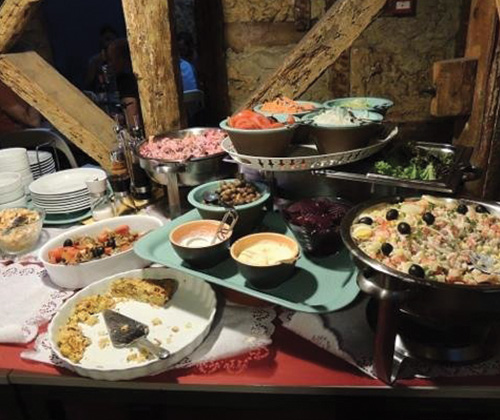 Rosa da Rua
Rosa da Rua, Rua da Rosa, Lisbon, Portugal
It's whole-in-the-wall-esque, but if you like super low key and affordable Portuguese food, do it.
LxFactory
Lx factory india Avenue, Avenida da Índia, Lisbon, Portugal
An outdoor utopian art space.
Flat, tread-bearing shoes.
Memmo Príncipe Real Hotel Lisboa, Lisbon, Portugal
Lisbon's cobblestones are sexy, but slippery!