Avalon Hotel
Where:Los Angeles, California

Why:A mini staycation in the city.

When:January 2017

Who:Me and my AHL bestie, Yasha Wallin.
Our bedroom, with a super comfy bed and trees lining the window, fooling you into thinking you're not smack in the middle of the city.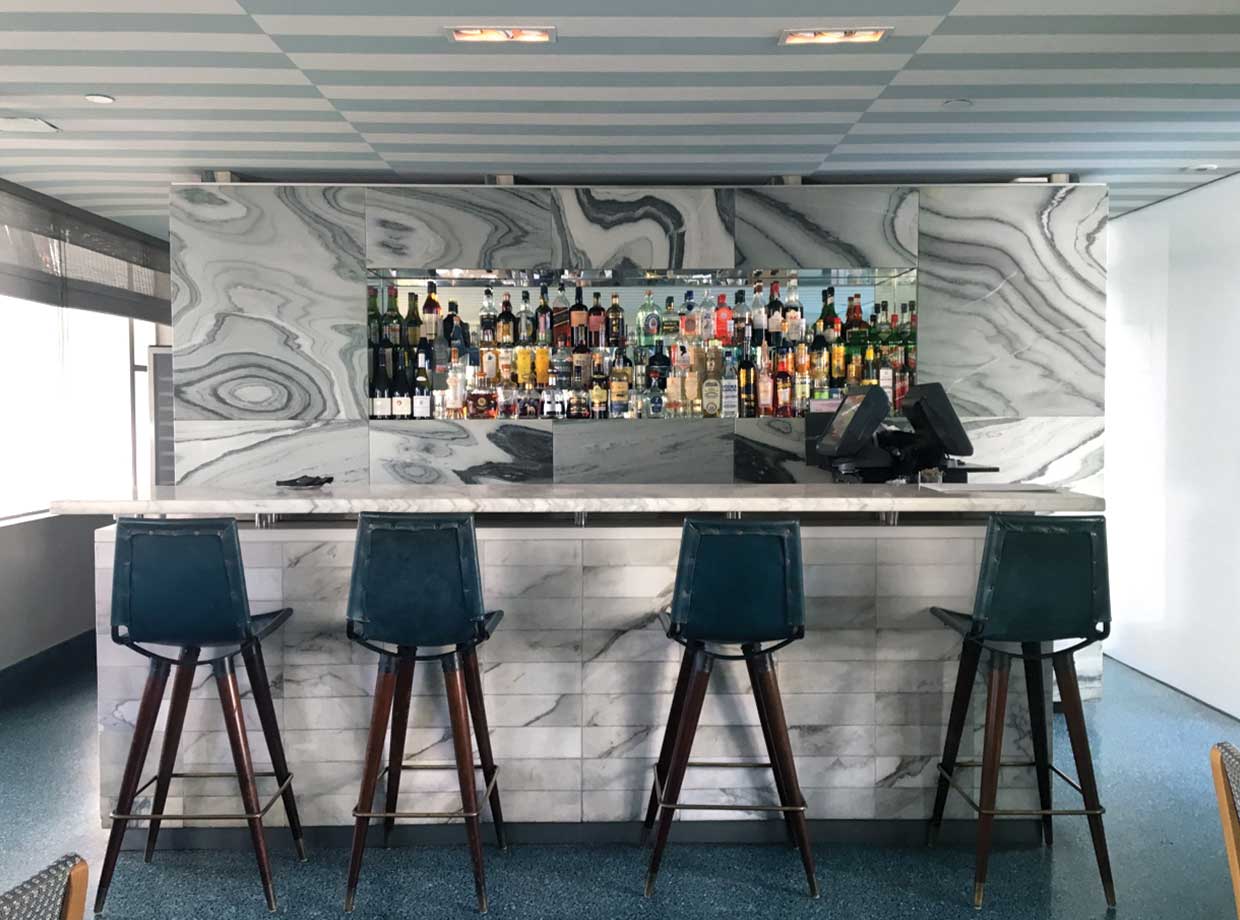 The interior of the restaurant is a crazy jumble of patterns and styles — plaid meets mid-century wood meets luxe marble paneling. Yet somehow it works.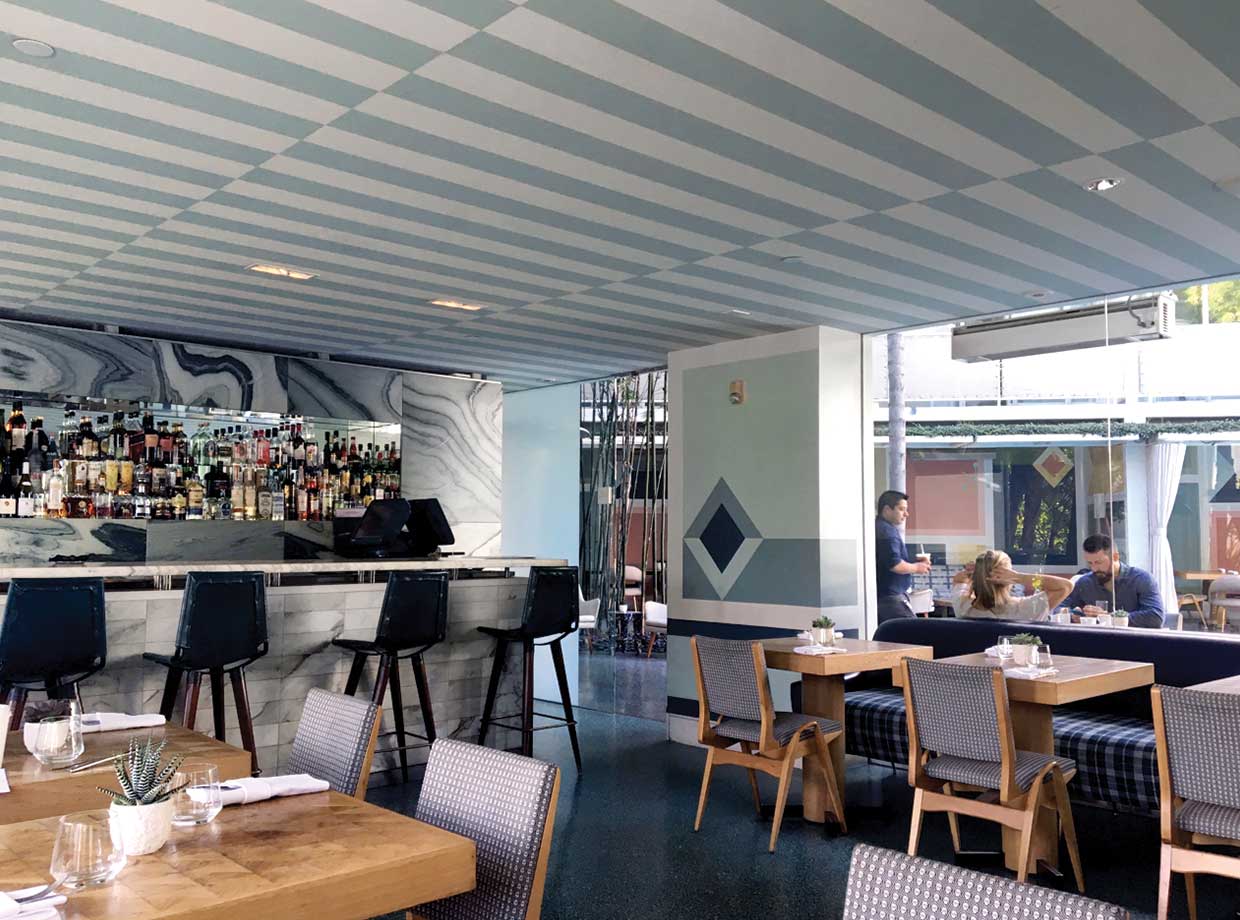 On the other side of the pool lies the hotel restaurant, Viviane, whose food is really excellent. And the cocktails, by star mixologist Ryan Wainwright, are too.
Colored murals line each of the pool cabanas, some of which are more like little living rooms. We could imagine spending the day writing a screenplay in one of these.
Another view of the pool sitch.
The hotel rooms all look out onto a central courtyard with a kidney-shaped pool and a series of cozy shaded cabanas, which was empty during our visit thanks to the unseasonably cold and rainy L.A. winter.
Also in the lobby — a cluster of surreal totems and an Archizoom sofa that felt almost TOO fancy for the Avalon's essentially motel-like setup. Almost.
The Kelly Wearstler–designed lobby is straight out of Palm Springs (where the Avalon's sister hotel resides).
It also had a marble-topped dining table where we ordered room service twice just to eat the hotel's inexplicably delicious hummus.
The living room of our little suite had a super chill vibe and a 50s-meets-70s décor. That white leather chair!
A sitting area near the elevators whose weird, tooth-like side chair reminded us daily that we weren't staying at a soul-less chain hotel.
Highs & Lows
Our room's décor was so refreshingly un-boring — the furthest thing from Ace-like cliché hipster or cookie-cutter corporate.

We had a dressing room. With a dressing table. Fancy.

That amazing marble-lined bar.
Kelly Wearstler did a great job with what she inherited, but the not-so-cozy retro-ness of the hotel's architecture isn't for everyone
The Barometer
Design

Website

Life Changing

Environmental Consciousness

Overall Value
Night's Sleep

Service

Amenities

Stealable Stuff

Refer a Friend
Total: 44/50
Important Bits
Type

Retro urban oasis.

Vibe

See "urban oasis" above — the Avalon is just two blocks from the intersection of Beverly Blvd. and Olympic, yet our room was just. so. chill.

Location

On a surprisingly quiet corner in Beverly Hills.

Rooms

85

Music

We didn't hear any.

Year Opened

1949, but it was totally redone by Wearstler in 1999.

Designed By

Kelly Wearstler
Pool/Gym

A pool and a gym, plus suites with living areas large enough to do Youtube yoga in.

Restaurant

Viviane, which hits the perfect balance of fine, but not too fine, dining.

Bar

A marble-lined beauty inside the restaurant.

Minibar

Nothing out of the ordinary.

Wifi

Free WiFi throughout.

Children

We didn't see any.

Price

Surprisingly affordable for such an upscale neighborhood.
Curtis Stone's raved-about restaurant Maude
Maude, South Beverly Drive, Beverly Hills, Los Angeles County, CA, United States
Just two blocks away, where the menu always revolves around a single ingredient that changes each month.
The Eames Foundation
Eames Foundation, Los Angeles, CA, United States
Where you can tour the house Charles and Ray built for themselves in 1949.
The quirky, cabinet-of-curiosity-style Museum of Jurassic
The Museum of Jurassic Technology, Venice Boulevard, Culver City, CA, United States
Paired with lunch at Destroyer.
Avalon Hotel
Avalon Hotel Beverly Hills, West Olympic Boulevard, Beverly Hills, CA, United States