Borgo Egnazia
Where:Puglia, Italy

Why:My honeymoon.

When:July 2018

Who:Me + my husband.
A view of Borgo Egnazia from the top.
A beautiful standard room in the main building.
The hotel's private adult beach, Cala Masciola.
One of 2 beautiful adult swimming pools.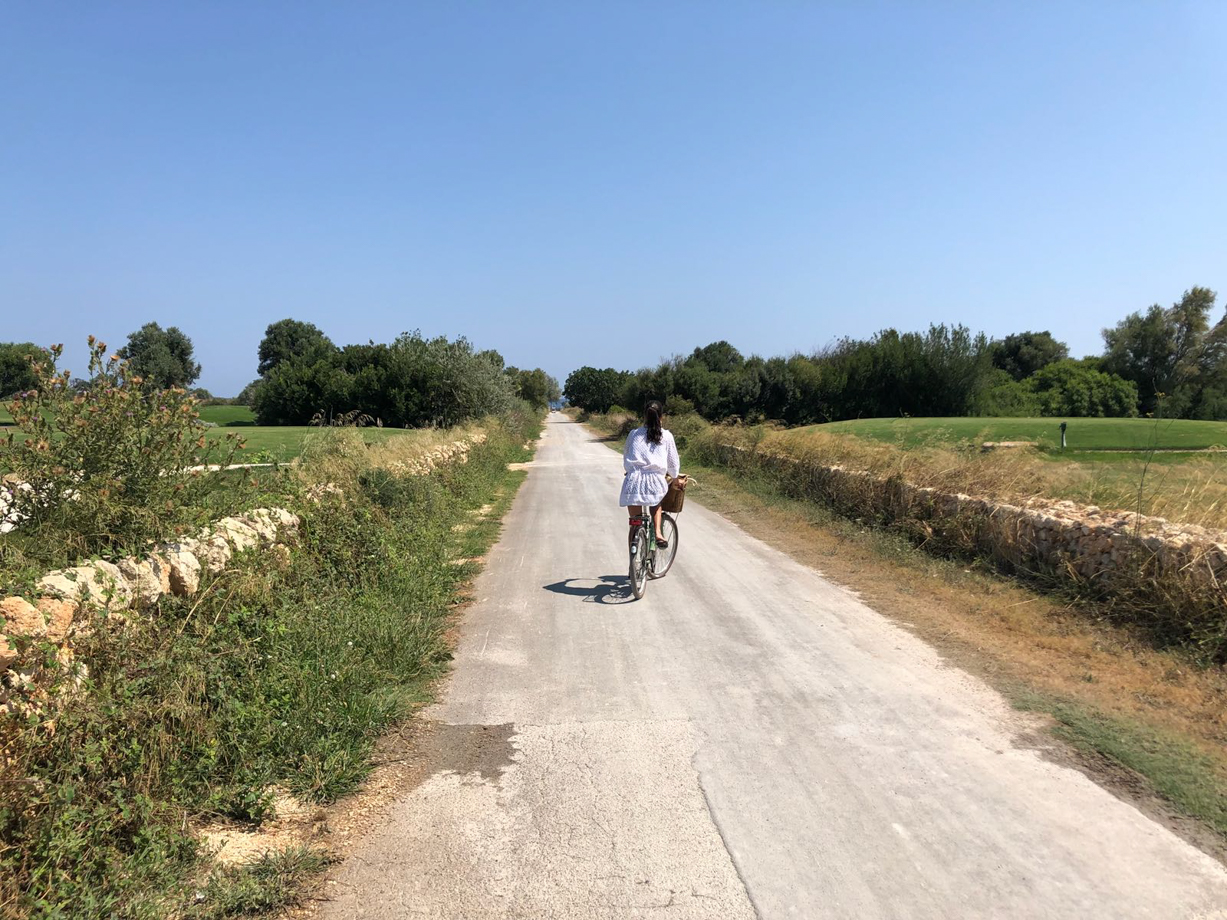 Rent bikes and explore the hotel grounds and the surrounding towns.
Sunset Aperitivo at Bar del Portico.
Cala Masciola restaurant.
The Vair spa…a visit is a total must. I had one of the best massages of my life here and was lathered in olive oil!
What a golf course! Not a player, but I can admire.
Take a cooking class at Trattoria Mia Cucina or eat "family" dinner cooked by a Massaia, local mama, with 12 other hotel guests.
What a setup.
Heading out in the hotel's ride.
Magical hotel at night.
Highs & Lows
Borgo Egnazia is a total inspiration. The hotel's architecture is relevant and appropriate without feeling contrived. The use of mundane Apulian objects such as tea cups, wine jugs, grain, etc in the hotel's design is also absolutely ingenious.

The hotel feels boutique although it is quite large and has every amenity you could ever hope for; a private beach, a championship golf course, an amazing spa, swimming pools, a boutique, and 6 restaurants!!

The hotel really shines at night when it becomes a magical and romantic Apulian village illuminated by warm candles.

I was totally shocked by the hotel's superb service. Each room gets a dedicated butler to help make reservations around Puglia, answer any questions, or show you around the hotel. All the staff is unbelievably professional, young, attentive and beautiful to boot!

The food at the various hotel's restaurants was spectacular. Think balls of fresh mozzarella at every meal
It was our honeymoon and although we know it can be considered kitschy we were hoping for some romantic gesture when we arrived to our room! What can I say, I am a sucker for some rose petals...
The Barometer
Design

Website

Life Changing

Plastic Free

Overall Value
Night's Sleep

Service

Amenities

Stealable Stuff

Refer a Friend
Total: 49/50
Important Bits
Type

Boutique Hotel

Vibe

Rustic elegance.

Location

On Puglia's coast located 50 min south of Bari near the fishing town of Savelletri Di Fasano.

Rooms

63 traditional guest rooms, 92 casette town houses, and 29 villas.

Music

Yes, depending where you are you can find electronic music or traditional Italian folk music.

Year Opened

2010

Designed By

Pino Brescia worked with the hotel owners the Melpignano family to recreate a traditional Apulian town for the hotel.
Pool/Gym

Yes, there are 3 amazing pools and one dedicated to families!

Restaurant

Yes, there are 6 restaurants.

Bar

Yes, Bar del Portico.

Minibar

Yes but nothing too exciting, although I highly suggest buying the Borogo Egnazia olive oil… it's really amazing.

Wifi

Yes and it is complimentary.

Children

Bring them! The hotel is designed to accommodate families with a mini restaurant, pool, and sandy beach just for children.

Price

Pricey and worth every penny!
Festa del Borgo was an amazing experience
Ostuni, BR, Italy
The hotel turns into a traditional Apulian festival a few times each summer with fresh pasta makers, bbq, mozzarella makers, performances, music, Scorrano lights. It is a one of a kind experience and definitely worth planning a trip around.
The hotel is perfectly located to explore the surrounding towns
Ristorante Casa San Giacomo "tracce e origini", Via Pergola, Ostuni, BR, Italy
Of Ostuni, Polignano Mare, and Aborobello. In Poligano Mare visit central beach and Aborobello check out the traditional Trulli houses.
Borgo Egnazia
Borgo Egnazia, Strada Comunale Egnazia, Savelletri, Fasano, BR, Italy