Maderas Village
Where:Nicaragua

Why:Birthday vacation.

When:Beginning of March.

Who:Two friends...a fellow Brit and a Canadian.
Evening run with Murray and Pitaya, the Maderas dogs.
Nothing beats the instant elation of arriving somewhere like this.
A perfect siesta spot...natural light and a soft breeze.
The ocean view outside the yoga studio, across from the dining area.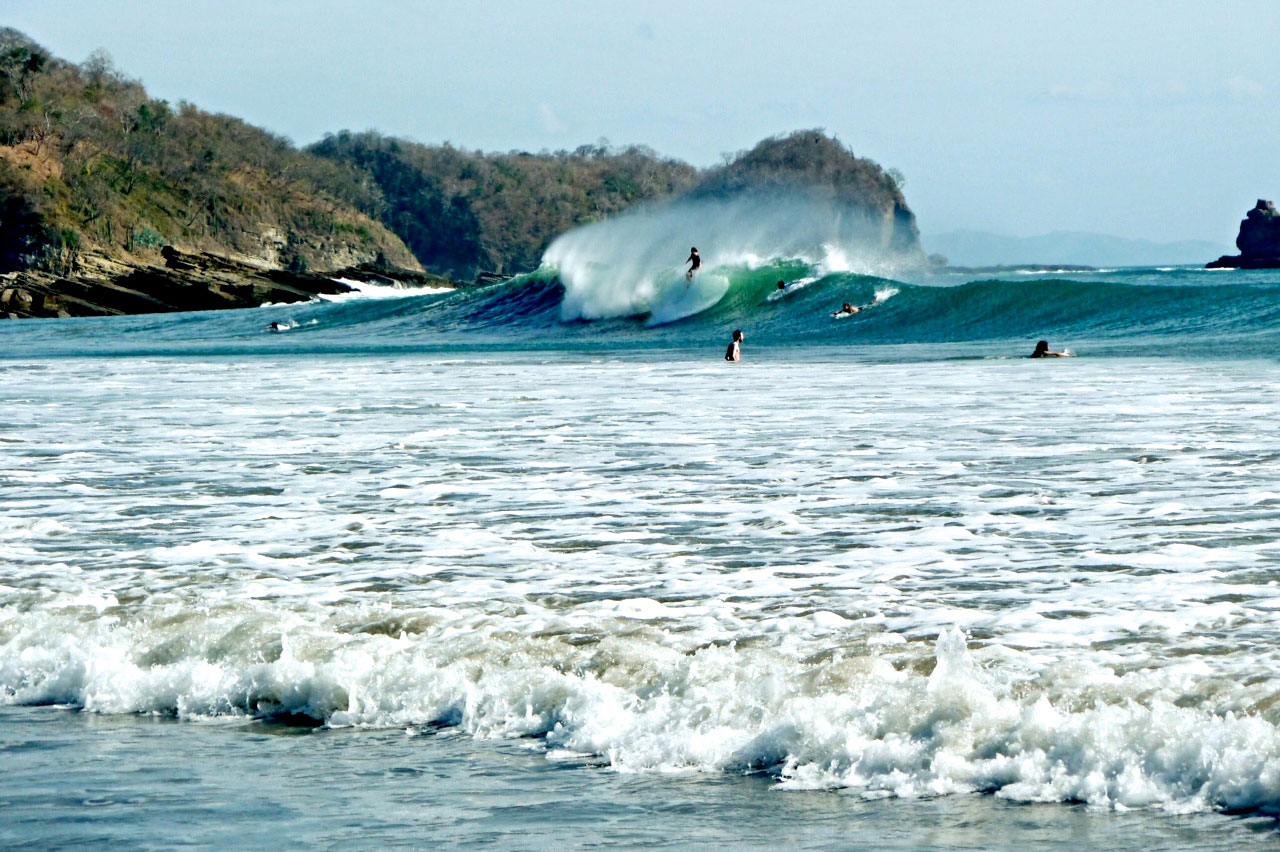 Maderas surf.
Beach essentials: sun-lotion, sunglasses, beer, book.
Surf instructor, Juan-Carlos, explaining the topography of the seabed and the day's surf conditions.
Sunset swim. Enough said.
Welcome surfers.
Highs & Lows
Hammocks overlooking the ocean.

Breakfast! Eggs with rice and beans, pancakes with cocoa and banana, granola and fresh fruit are just a few of the tasty options.

Family-style dinner, which allows for new friends and interesting conversation.

Full screen protection from creepy-crawly jungle creatures in all the cabanas.
No warm water for showers (although it's not really needed).

Walk back up the hill from the beach (this is a potential positive for your butt…)
The Barometer
Design

Website

Mini Bar

Life Changing

Environmental Consciousness

Overall Value
Night's Sleep

Service

Amenities

Stealable Stuff

Refer a Friend
Total: 43/50
Important Bits
Type

Specialty Lodging

Vibe

Easy-going yoga/surf haven.

Location

Playa Maderas, one of the best beaches for surfing in Nicaragua.

Rooms

Maderas Village can accommodate up to 40 guests in the dormitory-style rooms or private rooms.

Music

Mellow tunes, spiced up at night after dinner and a few rums…

Year Opened

2011

Designed By

David Grossman
Pool/Gym

Yoga pavilion, Pacific Ocean.

Restaurant

One main area with long benches and two couches. Food is served throughout the day until 4pm. After that, dinner is served family-style at 7:30pm, with chef's daily pick of local, fresh foods.

Bar

Drinks can be requested from the kitchen staff any time of day.

Minibar

No, but if you want to take beers back to your cabana, the staff will happily supply you with drinks.

Wifi

Yes.

Children

Children are allowed, but not necessarily encouraged.

Price

Excellent rates for lone travelers, couples or groups of friends.