Petit Ermitage
Where:Los Angeles

Why:Bit of work, bit of play.

When:November 2015

Who:Me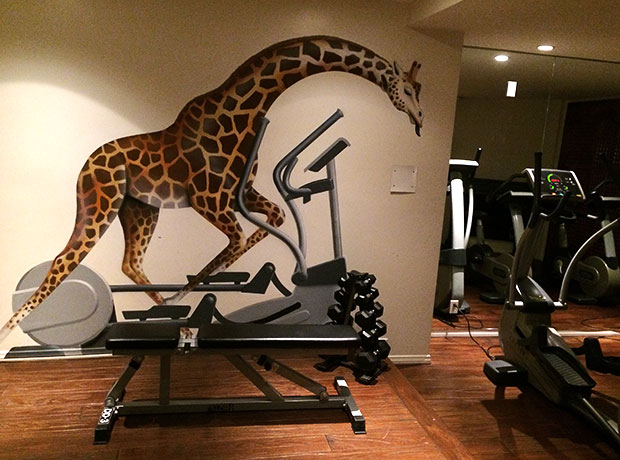 A gym with levity.
Welcome vibes. 'Play My Piano' by Olivia Steele.
WHOOOALLPAPER.
Breakfast vibes.
If you're looking for a slick and modern room, move on. If you're looking for large, cozy rooms you're exactly where you need to be.
Mini bar deliciousness.
Room view. There were humming birds buzzing around just outside my window...for a British New Yorker, this was something special.
The rooftop pool, restaurant and bar. Guests and members only.
Not a bad office for the week. Rooftop vibes.
Rooftop fireplace heaven.
Petit Ermitage was once an old apartment building. It's located on a quiet street in West Hollywood. Perfection.
Highs & Lows
The rooftop pool/garden/restaurant is enchanting with Kumquat trees and humming birds. And it's restricted to members and hotel guests only, so it's never a madhouse.

Friday night cabaret on the rooftop Masters Lounge is incredible. You have to catch Toledo's show!

The location is perfect, pretty and quiet.

There's a surprise around every corner - from the Olivia Steele neon artwork to the reception cookie jar, the bathroom/ATM 'artwork' and the outdoor rooftop fireplace…there's a sense of true wonderment everywhere.
Rooms could do with a little refurb, but they're huge.
The Barometer
Design

Website

Life Changing

Environmental Consciousness

Overall Value
Night's Sleep

Service

Amenities

Stealable Stuff

Refer a Friend
Total: 47/50
Important Bits
Type

A hotel that feels like a European guest house with a great members and residents rooftop pool/restaurant.

Vibe

Magical, unexpected and whimsical. This hotel is not for everyone (thankfully).

Location

A pretty tree-lined West Hollywood street.

Rooms

79

Music

Classical to cabaret to electronic.

Year Opened

2007

Designed By

The owner, Stefan Ashkenazy.
Pool/Gym

Pool on the roof, and fitness room.

Restaurant

Magical rooftop garden restaurant.

Bar

Yes, also on the roof.

Minibar

A Great mini bar!

Wifi

Yes, free.

Children

Bring them if they're well behaved.

Price

SO reasonable compared to hotels on the strip.
Eat at Son of a Gun on 3rd street
8370 W 3rd St, Los Angeles, CA
Exceptional seafood-focused eatery from the guys behind Animal, Jon and Vinny's etc..
Gjusta in Venice
320 Sunset Ave, Venice, CA
Reassuringly expensive deliciousness from the Gjelina team. The food is outrageously good.
Laurel Hardware
7984 Santa Monica Blvd, West Hollywood, CA
(I know, three restaurants...but worth it!) West Hollywood's 'fancy' restaurant, but not douchey. Incredible cocktails and perfect (albeit trendy) brussels sprouts!
Petit Ermitage
8822 Cynthia St, West Hollywood, CA