Pioneertown Motel
Where:Pioneertown, California

Why:To see what all the fuss is about.

When:4th of July weekend 2018.

Who:My own private ranger.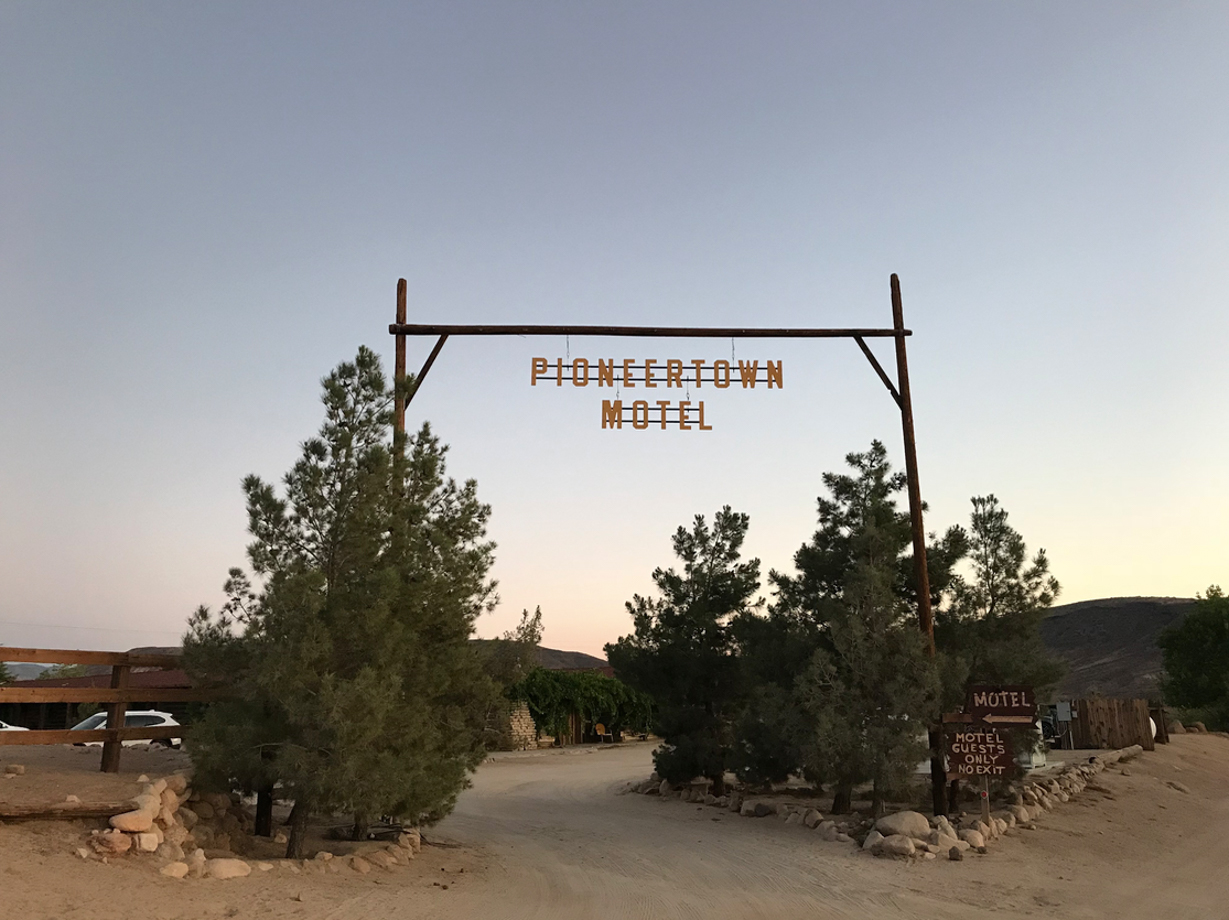 Driving up to the motel, being met by a filmatic Western sign of the Pioneertown Motel. Love.
This is the reception. I mean, am I in 'The Good the Bad and the Ugly'?
Love the Western accents of the room, give me some cowhide and I'm a happy desert camper.
Stoked to be in the wild wild west...especially when the showers are cold.
The motel has a classic layout, drive up all the way to your room, or if you have a horse to rock up on, tie the guy up old school way.
The common space is open 24/7 and has teas, coffees and water. Water. You'll need that by the buckets.
Local road sign at Pioneertown.
Cradle in one of these babies to watch the stars at night. Do not use during the day past sunrise or you'll turn into a roasted suckling pig in a hammock.
Running from the blazing heat after checking out. It's MadMax up in here.
Just a 30 min drive away is the main attraction, the Joshua Tree National Park.
Go at sunrise and have the whole place to yourself.
You'll find a lot of fun stuff to see around the property, old western houses, taver, trucks and lot's of cute desert hares.
Highs & Lows
Staying at the Pioneertown Motel is like staying in an old western movie. Dude, where's my horse?

The desert is magical, one of the only places I've been that is completely silent. Sunrises and sunsets are jaw dropping. And at night, a dome of stars will keep you entertained.
We went in July, when it's freaking roasting HAWT between 10am and 5pm. So if you're clever, plan to be out and about from before sunrise until it gets to the searing point, then go hug the AC and nap until it cools down at around 6pm. Plan lots of inside time.
The Barometer
Design

Website

Life Changing

Plastic Free

Overall Value
Night's Sleep

Service

Amenities

Stealable Stuff

Refer a Friend
Total: 47/50
Important Bits
Type

Motel

Vibe

19th century wester, yeehaw.

Location

2.5 hour drive from LA, in the high desert of Yucca Valley, next to Joshua Tree.

Rooms

17

Music

Enjoy the silence.

Year Opened

Originally in 1946 then reopened in 2015.

Designed By

Established in 1946, by Roy Rogers and restored by Mike and Matthew French, alongside Casey Keasler for interior design in 2015.
Pool/Gym

Nah, trek in the desert.

Restaurant

Nah, but Puppy & Harriets is 100m away.

Bar

Ditto.

Minibar

Water, essnetial.

Wifi

Yessir.

Children

Sure, why not.

Price

Starts at $180.
Keys View
Keys View, California, USA
Jaw dropping views for as far as the eye can see. Go for the sunset.
Pappy & Harriet's
53688 Pioneertown Rd, Pioneertown, CA 92268
Super vibes eatery and bar. You know that Rock & Roll Western dive bar every city in the world tries to recreate, well it's Pappy & Harriet's.
C&S diner
55795 Twentynine Palms Highway, Yucca Valley, CA 92284, USA
This diner is something out of a Tarantino movie, such a striking old school atmosphere and great prices
Pioneertown Motel
Pioneertown Motel, Curtis Road, Pioneertown, CA, USA