The Saguaro Palm Springs
Where:Palm Springs, California

Why:Palm Springs is my favorite California getaway.

When:April 2018

Who:All my best buds…including my furry bud, Brooklyn.
Palm Trees are the only real Skyline in Palm Springs.
Endless pops of color setting the vibe for an upbeat stay.
This hotel knows how to have a pool party.
So much ground to cover at this expansive property.
Colorful vignettes are a treat for the eyes at Saguaro Palm Springs.
Feeling zen in the desert with all this good energy.
Good design is crucial in this art centric town.
Someone's happy to be included on vacation.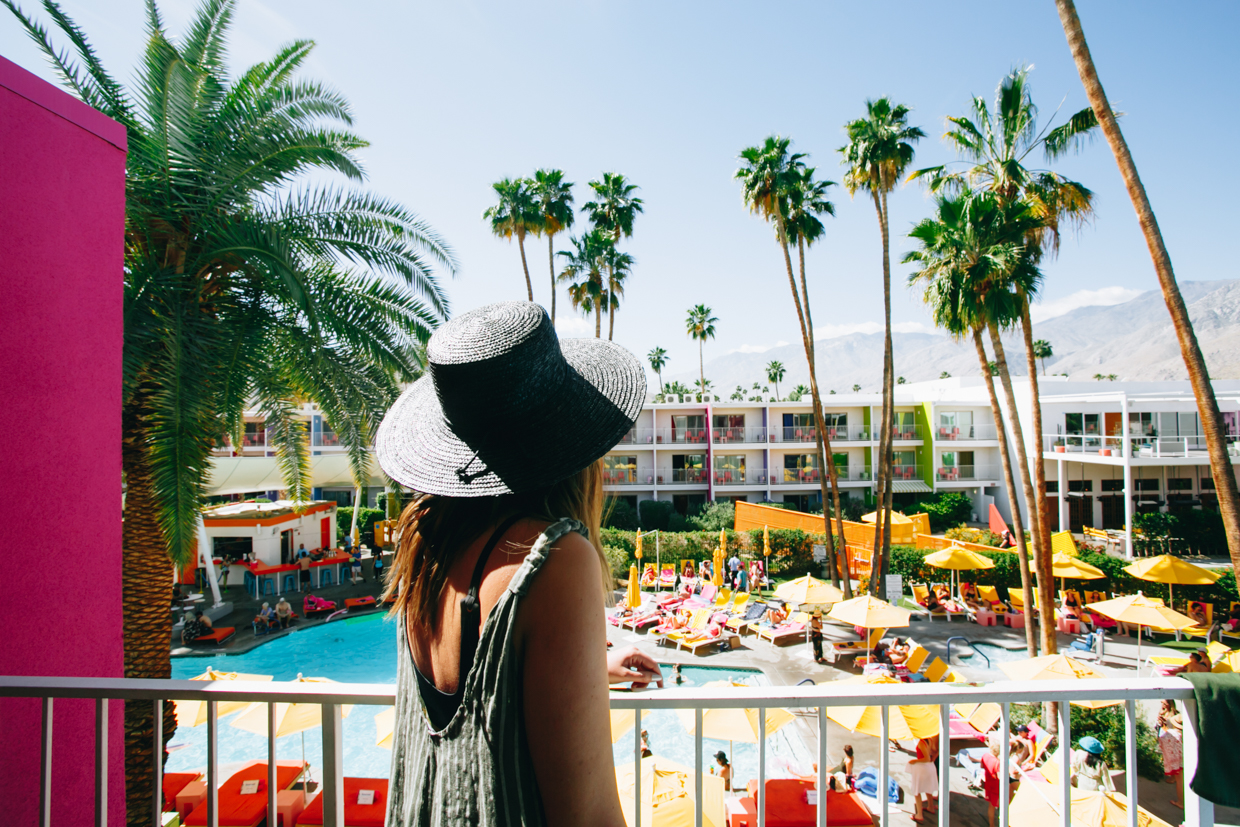 Join the party from the comfort of your own room.
It's easy to make yourself at home here.
From a hammock garden to ping pong to corn hole, there's plenty of activities to enjoy on the property.
El Jefe restaurant serving up amazing Mexican fare and killer margaritas.
Highs & Lows
This hotel offers you all the quintessential desert vibes you'd expect in Palm Springs at a reasonable nightly rate.

The amenities are more than you could hope for with a rocking pool bar, on-site restaurant, coffee bar, daily yoga, and relaxed vacation-mode atmosphere.

The perfect place to get away with a group of friends. Whether it's for a bachelorette weekend, a couple's escape or a college friend reunion, this is an amazing location for getting the band together for some fun in the sun.

Wishing you could bring your favorite 4-legged friend with you to Palm Springs? Great! The Saguaro is ready to welcome your dog for a small $50 fee for your entire stay. Now that's something to wag about.
Not looking to party? Oops…you may have missed the memo. From the music, to the pool service, to the spontaneous sunset dancing that tends to erupt without notice, you definitely are in the mix when staying at The Saguaro Palm Springs.

Sun is the name of the game when you're in Palm Springs so if you expect to get your tan on by the pool you better wake up early to grab a lounger before they all get scooped up…I'm talking like before 9am.
The Barometer
Design

Website

Life Changing

Environmental Consciousness

Overall Value
Night's Sleep

Service

Amenities

Stealable Stuff

Refer a Friend
Total: 46/50
Important Bits
Type

Boutique Hotel

Vibe

Barbie's desert dreamhouse.

Location

A quick 5-minute drive from the heart of downtown Palm Springs.

Rooms

245

Music

The ultimate party mix.

Year Opened

2012

Designed By

Sydell Group
Pool/Gym

Yes as well as a spa and daily yoga.

Restaurant

Yes, with pool service.

Bar

Yes, with pool service.

Minibar

No

Wifi

Yes, free!

Children

The pool is a total party vibe, although kids can join in on splashing around in the pool, this is perhaps a place to relax sans kids.

Price

Hip & budget conscious.
Ever been to a Starbucks? Oh sure you have. Ever been to a Starbucks Reserve?
Starbucks Reserve, South Palm Canyon Drive, Palm Springs, CA, USA
I'm guessing not but here's your chance with the newly opened Starbucks Reserve in Downtown Palm Springs. They offer an exotic menu of rare coffee experiences including siphon coffee which makes you feel like you're part of some exclusive lab experiment.
If you're a fan of brunch (who isn't) then you absolutely have to check out Cheeky's
Cheeky's, North Palm Canyon Drive, Palm Springs, CA, USA
Come early to get your name in as they don't accept reservations and there is always a wait. Everything on the menu is heaven for a breakfast lover, but don't miss out on the Bacon Flight. Yes, you heard me…a flight of infused bacons to set you out on the right foot for the day ahead.
If you're looking for the ultimate desert immersion then hop in the car and make the 50 minute trek to Joshua Tree National Park
Joshua Tree National Park, California, USA
Not only is the terrain dreamlike and the photo ops priceless but while in town make sure to hit up Joshua Tree Coffee Company, Crossroads Café, and newly opened shop, The Station.
The Saguaro Palm Springs
The Saguaro Palm Springs, East Palm Canyon Drive, Palm Springs, CA, USA