The Dave
Where:Tel Aviv, Israel

Why:Mid-Week Staycation.

When:December 2017

Who:Me and my best friend.
Well Hello to you too!
The lobby filled with vintage flea market finds is literally #homegoals.
A book lover's fantasy...
This bed of crimson heaven will make you want to stay up...all...night...long.
The mirror-ed wall makes sure you look good in every angle.
I don't think a morning after has ever looked this good.
Sugar rush before stepping out for dinner.
It's all in the details.
Mirrored headboards..Need I say more?!
Guests can choose to eat at one of to neighborhood spots for breakfast. I chose a stack of Vegan Pancakes served at (my favorite) local cafe just down the street from the hotel.
Highs & Lows
Walking into the 5th floor Deluxe Suite dressed in shades of deep red is truly a "wow" moment.

Curling up with a book in the lobby makes you feel like you're in the living room of a very well traveled friend. Every piece of décor seems to have a story.

Knowing you are one block away from the turquoise Mediterranean Sea can't help but put a smile on your face.

Breakfast at a local cafe really removes the touristy element of traveling. The delicious breakfast menu served all day has a wide range of Israeli and international delights to choose from.

It's not every day you get to soak in a free-standing bathtub lathered in bath products by Maaplilim (Tel Aviv based grooming company that uses natural oils and extracts from the Mediterranean region).
Checking out and heading back home after the perfect staycation getaway.
The Barometer
Design

Website

Life Changing

Environmental Consciousness

Overall Value
Night's Sleep

Service

Amenities

Stealable Stuff

Refer a Friend
Total: 48/50
Important Bits
Type

Urban Boutique Hotel

Vibe

Playful fun house meets urban jetset. What happens at The Dave stays at The Dave…

Location

On Gordon Street in Central Tel Aviv surrounded by chic shops and cafes. Oh and approximately a two minute walk from the absolutely stunning and serene Mediterranean Sea.

Rooms

35

Music

The sounds of a cool party you want to be at.

Year Opened

2017

Designed By

Agnon Granot and Brown Hotels.
Pool/Gym

Rooftop jacuzzi and spa suite.

Restaurant

No, but complimentary breakfast is served all day at two nearby cafes.

Bar

No, but their outdoor space serves beer.

Minibar

Sugar coated lollipops, as if the rooms aren't sweet enough!

Wifi

Free and fabulous.

Children

Leave them at home.

Price

Affordable, plus major bang for your buck.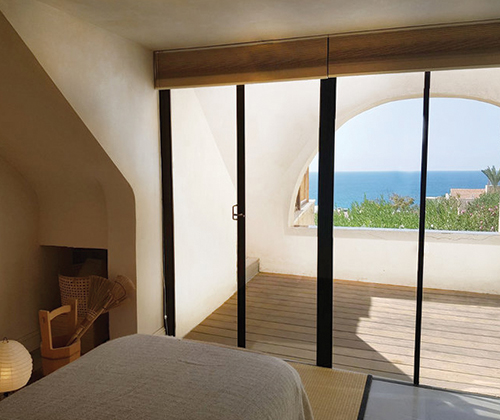 Yoko Kitahara Spa in Old Jaffa
Yoko Kitahara Spa
A must visit for a treatment or an experience in Japanese design aesthetic brought to you by their concept space/gallery. Prepare to be transformed in mind, body and spirit.
Swim In the Mediterranean Sea
Tel Aviv Beach, Shlomo Lahat Promenade, Tel Aviv-Yafo, Israel
A two minute stroll from The Dave leaves you with your toes kissing the white foam of the Mediterranean Sea. Floating in the almost completely flat, salty sea is a therapy you didn't know you needed.
Tel Aviv Museum of Art
Tel Aviv Museum of Art, Sderot Sha'ul HaMelech, Tel Aviv-Yafo, Israel
A cultural mecca filled with everything from old masters to the contemporary and controversial, all housed in a chrome geometric box in the North of the city.
The Dave
the dave tel aviv