The Native Hotel
Where:Los Angeles, California

Why:Because Malibu.

When:July 2018

Who:Me and my private driver, I mean boyfriend.
Driving up to The Native Hotel brings some serious nostalgia. I love how the old sign peeks through the new one.
Pink pink pink pink pink pink pink pink pink pink pink pink pink.
Welcome to the slick but nostalgic, modern but mid century, lobby lounge. This place is ticking off all my boxes.
Reception with a little curated shop if you had forgotten anything, like, say, your style.
The pink sofa by Early Work is a magnet.
The room has some great design combinations. Retro fridge, antique Turkish rug, 1910 Italian industrial stools and other fun goodies to find.
A comfy bed, tick. Fun rescued fabric gowns, tick tick. Dutch doors?? Tick tick tick, bullseye!
Room comes with a neat and cool area guide of where to go and what to eat. You won't get lost. And another cute detail, theres an incense and a poem in the bullet shell keychain. Damn, should have totally pocketed that.
Southern California bungalow chic. The concrete floors keep the place cool, and cool.
Attention, attention! to detail.
A simple but nice breakfast is included, some granola, berries and coffee, what else do you need to see you off?
Malibu motel living.
Now go, seize the day, catch some waves.
Highs & Lows
The design of The Native is impeccable. Even the snacks in the minibar are cool looking.

Location! Close to some sweet local Malibu establishments and Points Dume Beach.

Apparently Bob Dylan wrote the album Blood On the Tracks in room 13.
We stayed during the heatwave in one of the three rooms that don't have AC. The Native is working on having it in all rooms, California permits are not easy.
The Barometer
Design

Website

Life Changing

Environmental Consciousness

Plastic Free

Overall Value
Night's Sleep

Service

Amenities

Stealable Stuff

Refer a Friend
Total: 43/50
Important Bits
Type

Motel

Vibe

Mid-century modernist Americana motel.

Location

Point Dume Malibu, a 5 minute drive from the beach.

Rooms

13

Music

BYO, there's a speaker in the room.

Year Opened

First built in 1947 by the Wilcox Family then restored and reopened by Folklor and SKG Investments in April 2017.

Designed By

Folklor
Pool/Gym

The Pacific Ocean is down the hill.

Restaurant

Food truck by Chef Ludo Lefebvre coming fall 2018.

Bar

Maybe the food truck will serve booze...

Minibar

Full of hip looking snacks.

Wifi

Yes, free.

Children

I don't see why not.

Price

Starts at $299.
Point Dume Beach
Point Dume State Beach, Westward Beach Road, Malibu, CA, USA
Tucked away accessible by stairs, no selfie sticks, just pure chill.
Ollie's Duck & Dive
Ollie's Duck & Dive, Heathercliff Road, Malibu, CA, USA
Locals bar with surprisingly delicious food. Get the ahi tuna! Yum.
Malibu Farm
Malibu Farm Pier Cafe, Pacific Coast Highway, Malibu, CA, USA
Busy but delicious cafe on the Malibu Pier.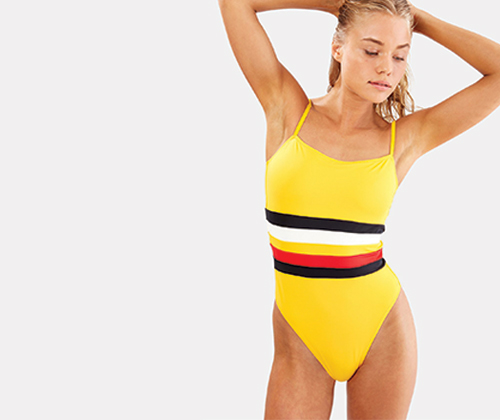 Solid & Striped bathing suit
28920 Pacific Coast Hwy, Malibu, CA, USA
Don't be an amateur, pack your cool one piece. This is is from Solid & Striped and is called The Malibu. I mean..
Please enter an Access Token on the Instagram Feed plugin Settings page