Casa Talìa
Where:Modica

Why:Looking for the windsurfer's paradise. Found it!

When:July 2014

Who:Me & my man.
Tiki Beach!!! Right before all the hot kitesurfers showed up (shhhhh).
The main office. Can I have one too? (Some of the furniture was designed and restored by the owners.)
The most peaceful space. It used to be a well, also restored. The natural light is key.
The lovely Mediterraneo room. Each of the 10 rooms were inspired by a Mediterranean country, so they're all really charming…check the tiles.
In love with those brick walls!
Looks like a cave, but it's the lobby. Each room in this guest-house used to be a family home. They bought about 12 homes and connected them, turning the inside of the rooms into Mediterranean hideaways while the outside remained simple and home-like.
Heading down to the breakfast room. Only a few more stairs!
Found my meditation spot in the top terrace! The temperatures there are surprisingly pleasant, perfect for a 20 minute sit.
Sweet garden overlooking the city hills. There's a fig tree in there.
The view! This is Modica.
Amazing, friendly locals. Dove è la spiaggia?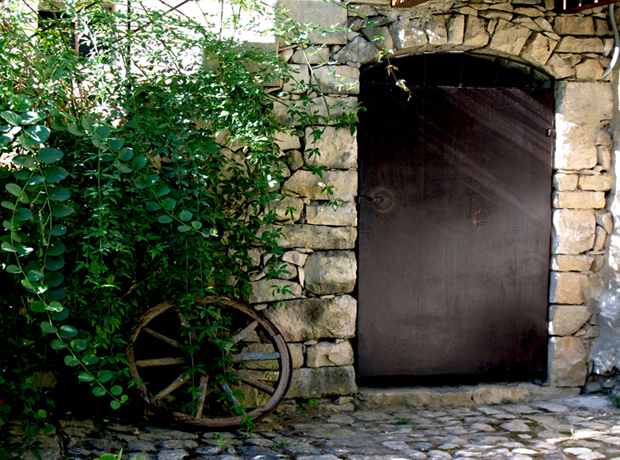 Hard to find, but here we are!
Highs & Lows
Very helpful staff. They picked us up halfway to get us through the tiny Sicilian alleyways and gave us the best tips on getting around + restaurant recommendations.

The overall design of the rooms and gardens (extreme attention to rustic and artistic details - cushions and lounge chairs overlooking the hills). It's a romantic place, Sicily is for lovers…

The slow-living life philosophy. Just sit back and relax.

Outdoor breakfast in the garden.
No cold beverages at mini bar, although we really didn't need them.

Difficult to find (make sure you have fun getting lost! It's quite a beautiful sight).
The Barometer
Design

Website

Life Changing

Environmental Consciousness

Overall Value
Night's Sleep

Service

Amenities

Stealable Stuff

Refer a Friend
Total: 42/50
Important Bits
Type

Guest house

Vibe

Trendy zen yoga teacher meets Italian stud.

Location

Perfect. Sicily got hit by an earthquake in 1693 and the only part of the city that remained was this. Everything else in Modica has been rebuilt in a Baroque style, but up in the hills at Talia, the rustic, traditional element has remained. It's on top of a hill overlooking the city, just a few hundred steps from the center of town.

Rooms

10

Music

Birds singing, breeze.

Year Opened

2010

Designed By

Marco Giunta e Viviana Haddad (a couple, both architects who live on site).
Pool/Gym

No pool (who needs a pool when you have pristine Mediterranean beaches?) no gym (don't worry, you'll get a workout climbing the stairs).

Restaurant

None on site.

Bar

No, but they'll bring you champagne and wine upon request.

Minibar

People don't really refrigerate things in Sicily. Try to buy ice and you'll discover the answer to this mystery. The minibar in our room was an antique wooden cabinet stocked with sodas and warm beers. Tasty.

Wifi

Free wifi throughout the property.

Children

Skip the children, this place is perfect for two.

Price

A bit punchy, but the view and garden make up for it.
Windsurf and Kite Surf at Tiki Beach
97016 Pozzallo, Province of Ragusa, Italy
Only 20 mins away from city center. Perfect wind and super chill beach club. Make sure you stay for happy hour (hot people!).
Indulge in an authentic, tourist free Sicilian meal at Osteria dei Sapori Perduti
Corso Umberto I, 228, 97015 Modica RG, Italy
Try the antipasti.
Live the Sicilian way
Corso Umberto I, 97015 Modica RG, Italy
Go to Corso Umberto (the historical center) and drink the coffee, have the granita, the brioche, the gelato then take a siesta. (unless you want to look at one of the 100 churches in Modica. I'd rather eat.)
Casa Talìa
Via Exaudinos, 1/9, 97015 Modica RG, Italy
Please enter an Access Token on the Instagram Feed plugin Settings page