Villa Lena
Where:Palaia

Why:Escaping the urban jungle.

When:Summer 2014

Who:My fiancé and me.
In front of Villa Lena
Our terrace as seen from the artists' villa.
The Tuscan sun cascading into our apartment.
The apartment's kitchen.
View of the villa from our terrace.
An on-site art installation.
Inside the artist ateliers.
Building an awning by the pool. Dress code is pure Villa Lena.
Rocking the (sub)urban turban on the road to the villa.
Panoramic view from the property.
San Gimignano.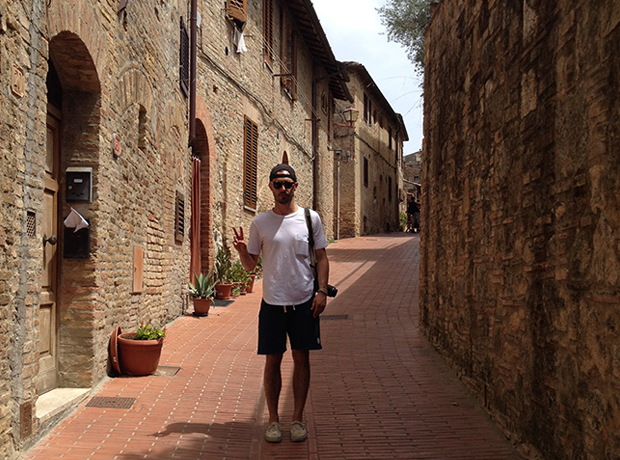 Being touristy in San Gimignano.
The only road in the abandoned village.
Highs & Lows
Villa Lena sits atop a historical hill with sweeping surrounding views, nestled next to the remains of a Medieval castle (now artfully adorned with temporary and permanent installations) on over 500 hectares of property- about one and a half times the size of Central Park.

The owners are lovely, accessible, and resoundingly creative- Jerome's musical forays (particularly his current collaboration with RZA) can be heard around the property.

Everyone is welcome to embrace the artists in residence in their ateliers - watch fine artists paint sitting subjects and listen to musicians, both well-known and emerging, hone their craft.

Villa Lena is all about inclusiveness - you are welcome to be a part of everything and anything if you want to be. You can retreat into your private oasis if you'd like or indulge in late night bonfires, live gypsy music, or privately dj dance parties into the early morning by Lionel himself.

Surrounded by farmland and gardens, Villa Lena is nearly completely self-sustaining, with fresh vegetables from the garden and olive oil from the groves on the property…the house wine is fantastic.
It's remote and difficult to find, but the journey is a reward in itself…when you arrive at the palatial villa and inspiration mecca, you'll regret nothing. Just be sure to rent a car… though note, they cannot be found on GPS. Follow your instincts and look for the distinctive Andre Saraiva designed logo on the roadside south of Palaia.
The Barometer
Design

Website

Life Changing

Environmental Consciousness

Overall Value
Night's Sleep

Service

Amenities

Stealable Stuff

Refer a Friend
Total: 49/50
Important Bits
Type

Bed / Breakfast / Interactive Artist Retreat

Vibe

Parisian boheme in a secluded, self-sustained artists' haven.

Location

45 minutes south of Pisa and 45 minutes west of Florence in the Tuscan countryside.

Rooms

14 apartments spread between two villas alongside an artist residency and art/music studios housed in centuries old stable houses.

Music

iPod docks in the rooms and private live performances from a variety of talented artists.

Year Opened

2014 to the public.

Designed By

French designer Clarisse Demory, with help from owners Jerome Hadey (fine artist and musician), his wife, gallerist Lena Evstafieva, and Lionel Bensemoun of Paris' legendary Le Baron.
Pool/Gym

Hilltop pool with panoramic views overlooking the Tuscan hillside to San Gimignano.

Restaurant

Yes, complete with imported Parisian chef Helene Bouchardeau.

Bar

At the restaurant, serving locally-sourced and produced Tuscan wines alongside some serious grappa.

Minibar

No mini bar in the apartment unit, but there was always something available at the restaurant...

Wifi

Free. And accessible everywhere on the property.

Children

Bring them and watch them not touch an iPhone for the entirety of your stay. They will revel in feeding the rabbits and foxes and exploring the nearby abandoned Medieval village.

Price

Reasonably high and worth every Euro.
See the Medieval abandoned village
Strada Comunale di Toiano, 42, Toiano, Palaia PI, Italy
Eery silence with picturesque vantage points
Take the nearby drive through the rolling hills to virtually untouched San Gimignano
San Gimignano, Province of Siena, Italy
Go back in time in just 20 minutes.
Embrace the artists in their ateliers.
Strada Comunale di Toiano, 42, Toiano, Palaia PI, Italy
In New York you'd never have the chance!