Fort Bazaar
Where:Galle Fort, Sri Lanka

Why:A tour of Sri Lanka.

When:April 2017

Who:Me and @helloscruffalo
Sipping tea and eating cakes at afternoon tea time (complimentary at 3-4pm daily).
Checking in with friendly staff in the lobby. Fruit cocktails on arrival are always a treat.
The foyer overlooking the central courtyard where you can take afternoon tea.
Entering that verdant central courtyard, around which most of the rooms are set.
There is also a day spa here offering lush ayurvedic treatments – massages and facials.
The bedroom with colonial touches - a four post bed, Ceylon posters and linen lamp-shades.
The desk in our room came with a cute finger wheel phone and colourful illustrated post cards and maps of the Fort.
A quiet nook to get lost in with a book.
Or try the upstairs library.
: Some rooms have a private patio overlooking busy Church Street below. These get great morning sun and you can have breakfast delivered to enjoy here.
Church Street Social, the hotel's in-house restaurant. Indulgent breakfast, great milkshakes, open all day. Check out the floor tiles.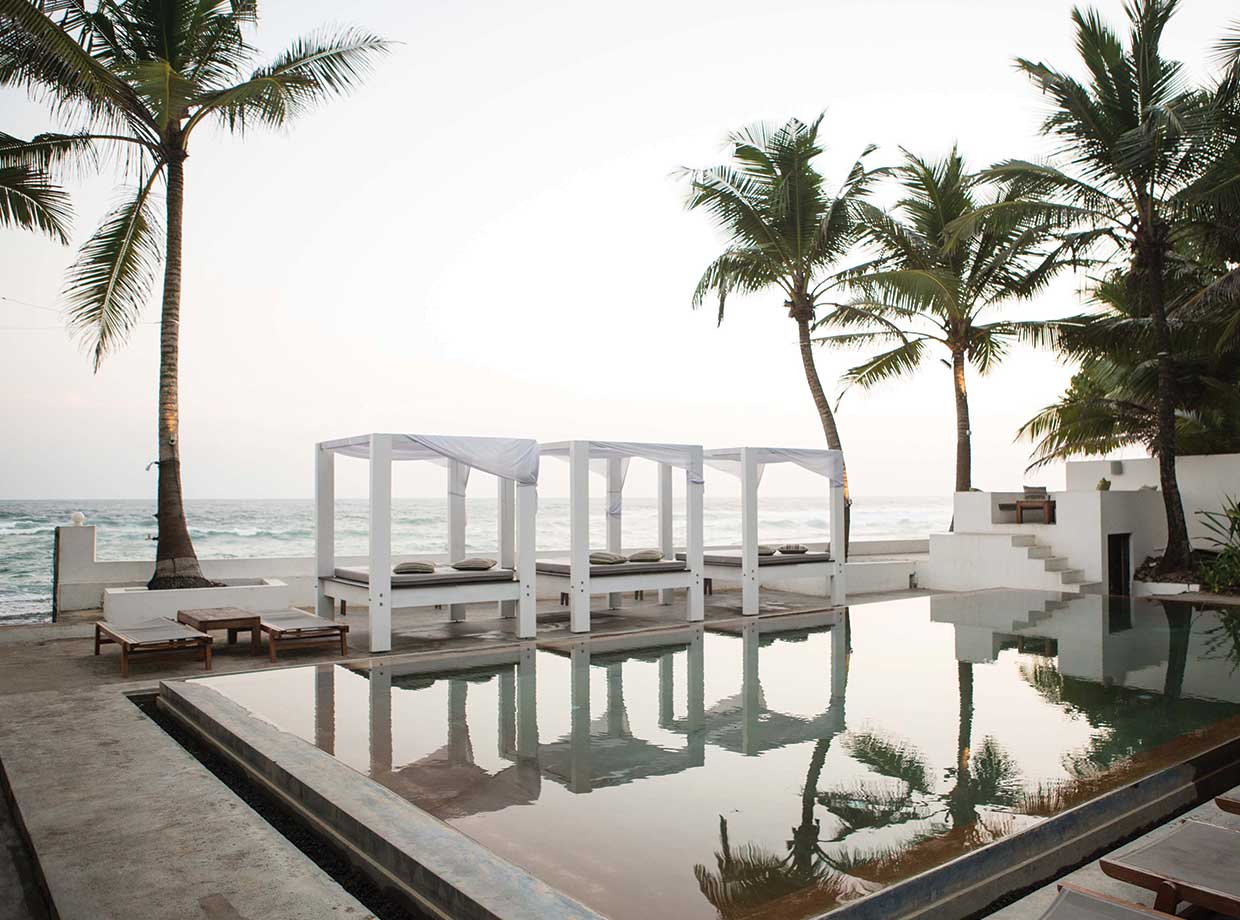 The Beach Club in Talpe - available to guests while the pool at Fort Galle is being built.
Highs & Lows
Complimentary afternoon tea and cakes in the central courtyard, daily from 3-4pm. How could you not?

The service here is extremely warm and welcoming.

Breakfast is very good, taken at the in-house restaurant Church Street Social or on the patio in your room. It's an indulgent spread of fresh fruit, toast, pastries, jam, coffee or tea and delicious eggy breakfast dishes to chose from.

Unfortunately the swimming pool wasn't finished when we visited, but they had back up – an option to visit their sister venue, The Beach House in Talpe (15 minutes away via complimentary Tuk-Tuk).
The Barometer
Design

Website

Life Changing

Environmental Consciousness

Overall Value
Night's Sleep

Service

Amenities

Stealable Stuff

Refer a Friend
Total: 46/50
Important Bits
Type

Boutique hotel in a restored 17th century merchant's house.

Vibe

Colonial-chic with elegant modern touches and a relaxed vibe.

Location

Super central, right in the heart of the Galle Fort on the main drag, Church Street.

Rooms

18

Music

Mulatu Astatke

Year Opened

2016

Designed By

Simone Grace
Pool/Gym

They were still building the pool when we visited but the hotel can transport for you their other site The Beach Club at Talpe Beach for a swim.

Restaurant

Yes, Church Street Social is the hotel's restaurant on the ground floor entrance of the hotel. It's open all day serving food that spans Sri Lanka, Moroccan and Mediterranean dishes. Breakfast here (included in your room) is very good, so are the milkshakes.

Bar

Yes, the coolest non-alcoholic bar serving epic juices, smoothies and mocktails.

Minibar

Mini bar only included soft drinks, water, tea and coffee but drinks are free. The hotel doesn't have a license so can't serve alcohol.

Wifi

Yes, it's free, but isn't very reliable.

Children

Bring them - some bedrooms are family sized with separate room for the kids.

Price

Affordable luxury.
Walk around the Galle Fort at sunset
Galle Dutch Fort, Church Street, Galle, Sri Lanka
Watch all the local activity – kids swimming in the beaches on the outskirts or playing cricket, and families enjoying a early evening stroll.
Dairy King
Dairy King, Church Street, Galle, Sri Lanka
In a sweet pink house, serving homemade ice cream. Our favourites were the mango, burnt butter and cinnamon.
Coconut Sambol
coconut sambol, පල්ලිය පාර, 加勒, 斯里蘭卡
A tiny neighbourhood restaurant with about 10 seats that serves a buffet of traditional, homemade Sri Lankan curries in clay pots – curries include fish, dahl, chicken, bringal (eggplant), banana and mango chutney.
Fort Bazaar
The Fort Bazaar, Galle, Southern Province, Sri Lanka