Giraffe Manor
Where:Nairobi

Why:Part two of an African adventure

When:May 2014

Who:Me, some East and West Coast buddies and lots of long necked friends.
Turn down for what? The adorable hot water bottles they place under the sheets before you turn in!
Are you on the list?
Understated and welcoming entrance.
View of the four post bed with steps up to the balcony where you'll awake for a face to face early morning visit with the giraffes.
This is why I give sleep a 4 out of 5 below. You can't resist hopping out of bed at the crack of dawn for this!
Oh, hello friends.
This plush, eclectic gathering space fills with guests and visitors each day for tea time, cocktails and story sharing.
Classically elegant dining room where you can choose to dine with the other guests staying on property. A fun, intimate way to get to know each other. And the food was delish.
Even the plates have gilded nods to the stars of the show.
Trying to teach her knock knock jokes but she's only interested in a snack.
Will my gel mani survive this? (Fun Fact 1: the giraffe's saliva is antiseptic. Fun Fact 2: I didn't actually get a gel mani to go to Africa, guys...)
A pedicure? Yes, c'mon. Here I am kicking back trying to read a book and getting beautiful distractions.
The quiet wood paneled study. Where you will spend no time. Because, giraffes.
A classic you can't sit with us moment.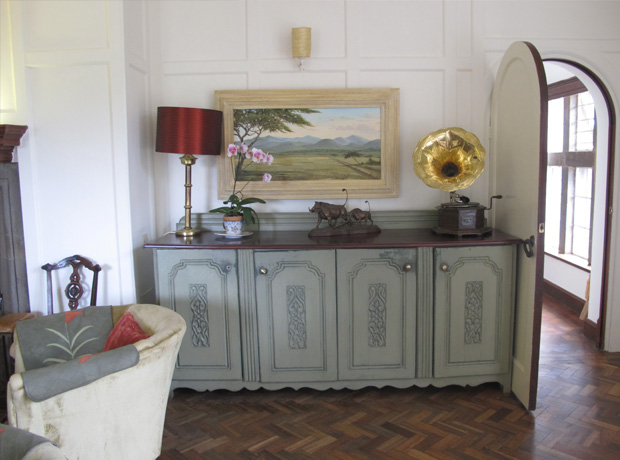 Many an afternoon G&T was prepared with the goods from this liquor cabinet. Did I mention it's all complimentary?
After an exhausting day pretending to pose for Peter Beard, collapse into the sofa and be served tea and snacks by the fire.
When the giraffes have retreated for a while it's nice to wander about the beautifully manicured gardens and take a peek into the orchid greenhouse.
Queen of the castle ELD strikes a pose outside the ivy covered manor.
Highs & Lows
There's nowhere else in the world where you can get this close and intimate (we're talking kisses) with stunning giraffe. The resident Rothschild giraffe visit the manor morning, afternoon and evening in search of treats and new friends. You'll feel like a giddy kid from dawn to dusk.

The service is astounding, and incredibly personal. From the moment you arrive, you're treated as a guest in a private home, and the staff never tires of helping you attain the perfect giraffe selfie.

Even without its namesake draw, the property is beautiful and peaceful inside and out.
The Manor is closed each year during the month of May for maintenance (although I like to think it's the giraffe's pre-summer slim down).

Don't run out of food in your palm and try to just like, hang with them. Erica learned the hard way that a gentle nudge by a 2,000lb creature can definitely leave a mark.
The Barometer
Design

Website

Life Changing

Environmental Consciousness

Overall Value
Night's Sleep

Service

Amenities

Stealable Stuff

Refer a Friend
Total: 47/50
Important Bits
Type

Boutique Manor

Vibe

Regal explorer's den meets storybook come to life.

Location

Karen, a southwest suburb of Nairobi.

Rooms

10

Music

None.

Year Opened

Developed over decades by the Leslie Melville Family, it was officially taken on and opened by Rick Anderson in the late 1980s.

Designed By

Mikey and Tanya Carr Hartley designed the Garden manor, furnishing locally with all Kenyan artisans and products. The original Manor house was built by a family in the 1930s, modeled after a Scottish hunting home.
Pool/Gym

No.

Restaurant

Stays are full-board including meals and drinks. Dinner is served in an elegant, formal dining room. Breakfast in the sunlit parlor is the main attraction...where you'll be feeding your long-necked friends far more than yourself!

Bar

The communal living room has a classy and well-stocked spirits cabinet from which you can request a cocktail at any time of day, or make your own.

Minibar

Delicious complimentary snacks.

Wifi

Yes.

Children

Yes.

Price

Costly, but well worth the once-in-a-lifetime experience.
Sheldrick Wildlife Trust
Sheldrick Wildlife Trust, Makueni County, Kenya
Ivory poaching is a loathsome problem throughout Africa, and the wonderful people here have taken on the duty of rescuing, rehabilitating and re-releasing baby elephants who've lost their families. The trust is open to visitors daily, and you can even adopt a baby!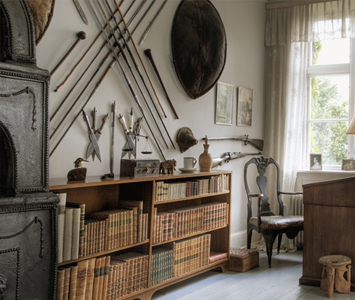 Karen Blixen Museum
Karen Blixen Museum, Nairobi, Nairobi County, Kenya
Take a tour of the late Danish author's house and grounds.
Tribe Hotel
Tribe Hotel, Limuru Road, Nairobi, Kenya
Most people only stay at Giraffe Manor for 1-2 nights, so if you're in Nairobi for a stretch, check out the sleek design and smoke a hookah on the sexy rooftop at this popular spot.
Giraffe Manor
Langata Rd, Nairobi, Kenya
Please enter an Access Token on the Instagram Feed plugin Settings page