The Connaught
Where:London

Why:Our wedding anniversary.

When:January

Who:Me and my favourite person.
Classic breakfast was a must - scrambled eggs and smoked salmon.
Such a grand and welcoming entrance.
The classic wooden revolving door.
Ben's trainers - the perfect match to the parquet floor in our room?!
Sleek, large bathroom with black & white photos of Hollywood stars.
"Sorry, I didn't catch that, why yes, I would like Champagne in our room!"
The Connaught Suite living room with 'grand' mini bar and bay windows overlooking Carlos Place.
Now that's a welcome I could get used to!
Our HUGE bed in the Connaught suite.
Let the games begin!
Highs & Lows
From the moment we approached The Connaught to the moment we left, we were treated as the hotel's only special guests. Of course every guest experiences this, but when it's you, you feel like the only one! What made this hotel stand out from other hotels was the staff's down-to-earth nature and utter willingness to help out with absolutely anything. The Connaught is a luxury hotel and Ben and I arrived in our jeans and trainers (fresh Nike kicks natch!), and we couldn't believe everyone's welcome and generosity, completely unpretentious or snobby, just authentic and real.

A hotel that has everything - perfect cocktails, exceptional chef, Aman spa, pool and gym, beautiful and comfortable rooms and suites. We stayed in the Connaught Suite designed by Guy Oliver and it was huge; it's large leaded windows overlooking stunning Carlos Place.

Although quite a large hotel, there was something about its dark wood interiors, open fireplace and grand staircase that make it comforting and charming.
The Barometer
Design

Website

Life Changing

Environmental Consciousness

Overall Value
Night's Sleep

Service

Amenities

Stealable Stuff

Refer a Friend
Total: 49/50
Important Bits
Type

Classic luxury. A hotel as it should be, utterly charming with exceptional service.

Vibe

I'm not sure you can say that The Connaught has a 'vibe'…it's beyond a vibe!

Location

The center of 'Mayfair Village,' on the corner of super the fashionable and gorgeous Mount Street.

Rooms

121 rooms, including 34 suites.

Music

None.

Year Opened

The original hotel dates back to 1815, but it was 1917 that it was named The Connaught. The hotel's history is fascinating and well worth a read.

Designed By

In 2007 The Connaught underwent a major restoration project and refurbishment by designers David Collins and Guy Oliver.
Pool/Gym

There's an Aman Spa underneath the hotel, the only one in the UK; there's also a pool and fitness room; all utterly stylish, of course.

Restaurant

The two-Michelin-starred restaurant - Helene Darroze at The Connaught - is one of London's finest restaurants and is a sensational dining experience from beginning to end. You're presented with what looks like a wooden games' board with white balls sitting in indentations. It is in fact the menu, each ball has an ingredient and you choose the ingredients you like. Or if you're rubbish at deciding, as Ben and I are, then you simply say 'yes, I'll have everything please'!

Bar

Ah, The Connaught Bar, a place of dreams! Having a table in the bar is a special treat. I've been a few times and each time you are treated as if you're the most important person in there (of course, everyone is treated like this!). Designed by David Collins, the bar is subtly art deco inspired, luxurious without being ostentatious. Cocktails are refined and perfectly made by the master, Agostino Perrone and his team.

Minibar

Hardly a mini bar, more of a grand bar. An ornate gold gilded and black lacquer drinks cabinet.

Wifi

Yes, there's WiFi.

Children

I think not, it's a special treat for you and your loved one.

Price

Expensive luxury, but well worth it.
A cocktail in The Connaught Bar
10 Shepherd Market, London
Absolutely essential. And if you can, dinner at Helene Darroze is a real treat.
Discover Mayfair's many stunning mews
117 Mount St, Mayfair, London
Stroll down to London's hottest new restaurant Kitty Fisher's in Shepherd's Market with Welsh head chef Tomos Parry.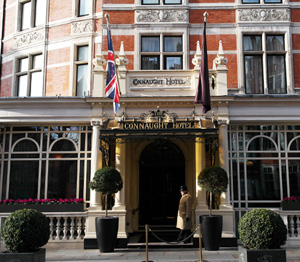 The Connaught
Carlos Place Mayfair, London