CasaCau
Where:Rome

Why:Vacation

When:May 2014

Who:Me and my mum.
The best view of the Pantheon.
My fresco bed, Apartment Five.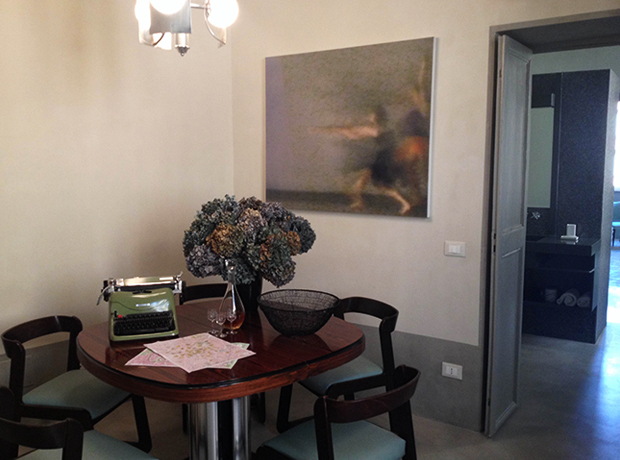 Olivetti typewriter vs iPad epitomizes the successful synergy of old and new in the apartments.
This floor was so amazing. It made me feel like the woman with objectum-sexuality who married the Berlin Wall.
My life divided into 100ml portions.
Baroque-gasm. All Saints Church (Ognissanti) is just around the corner from CasaCau.
Aperitivo Italiano.
The kitchenette and shelves stacked with goodies.
CasaCau is a coin's-throw from the Fontana di Trevi (best seen at 3am).
CasaCau's unassuming wooden entrance defies the flamboyance within.
Highs & Lows
Flavia and Kevin (the apartments' hosts) are two of the most sincere and friendly people I have ever had the pleasure to meet.

The absolute serenity. I was surprised that such a busy street could be home to five peaceful apartments.

Breakfast to your door in an authentic market bag was divine. Bread, fruit, yoghurt, pastries, juice, milk. Yes.

CasaCau offers the freedom to live like a local.
There's no lift, so if stairs aren't your thing...be warned.
The Barometer
Design

Website

Life Changing

Environmental Consciousness

Overall Value
Night's Sleep

Service

Amenities

Stealable Stuff

Refer a Friend
Total: 39/50
Important Bits
Type

Luxury design focused apartment-like hotel.

Vibe

A design-led home away from home.

Location

Moments from the Fountain di Trevi but an oasis of calm above the bustling tourist streets below.

Rooms

Five.

Music

Ambient rainforest sounds in the living space of the apartment.

Year Opened

2013

Designed By

Originally a 17th century residential building, CasaCau has been updated by the owners with all mod cons.
Pool/Gym

No.

Restaurant

No.

Bar

No.

Minibar

No minibar, but there was a full fridge and cupboard of goodies and giant bag of breakfast in the morning, which also served as a packed lunch for the day. Well catered for is an understatement.

Wifi

Yes, free.

Children

Yes, bring some.

Price

Expensive luxury.
Pizzarium
Via della Meloria, 43, 00136 Roma, Italy
Pizzarium is where pizzas go to die. Pizzarium is the pizza they order after they find their mums in The Land Before Time. Sandra Bullock orders Pizzarium after she climbs out of the final pod in Gravity. Bill Murry whispered Pizzarium to Scarlett Johansson at the end of Lost in Translation.
The Colosseum
Piazza del Colosseo, 1, 00184 Roma, Italy
An obvious choice but this is where real gladiators came to fight. You can practically smell Russell Crowe.
The Vatican
Vatican City
The Vatican is a must for the Cistine Chapel alone, and the mural of the men nearly touching. There's literally too much to see so be prepared to be ruthless and set yourself a time limit if you're on a mini break.
CasaCau
Via in Arcione 94, Rome, Italy