Nambiti Plains Lodge
Where:KwaZulu Natal

Why:Vacation…and because I've got to try and go everywhere at least once.

When:Early December 2012

Who:Me, my friend Chloe and her amazing and hysterical folks
Oh hello, friends.
Within 30 minutes of arriving, we had elephants drinking out of the pool as we sipped Pimm's Cups…luck of mother nature felt a little staged for this cynical New Yorker.
Coziest, best nights of sleep I'd had in a long, long while.
I loved the open plan room– everything has a view of outside so you don't miss a single bird.
We hung out by the fire here all night watching one of the wildest lightning storms.
I sat out on this deck for several hours every day just taking in the sounds.
Best smelling products!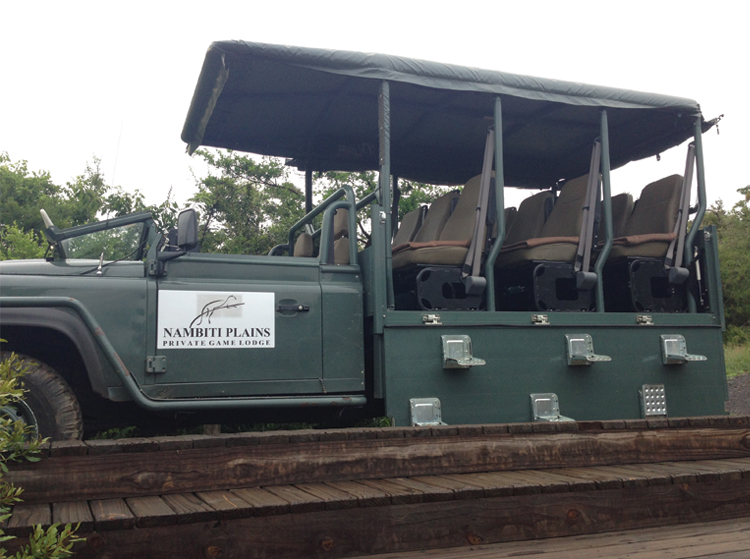 This is the rover we were in each morning and night for the game drives…ours was definitely the coolest.
Bought these from a dude on the road near the entrance to this Big 5 game reserve – my "funky" friends ended up being made of dung!
We would pass other lodge's rovers all the time and let's just say– it got a little weird sometimes.
I sat in a robe on this deck for about 3 hours...watching, listening and writing postcards home.
The main lodge is bright and modern while tastefully incorporating the feel of the natural bush that you are surrounded by…
Highs & Lows
Rooms felt like home with insane views of the savannah.

Guides were very knowledgeable about both the land and animals – with great stories. By the end of the 3 days we were inviting our guide and innkeeper for drinks by the fireplace and hugging the staff goodbye.

Daily food menus were diverse, perfectly prepared, and could be served pretty much anywhere you liked.

Obsessed with their local, organic soaps and sea salts in the rooms by Africology.
Small shop with a few branded hats and fleece sweatshirts, wish there had been more products because there was plenty of stealable stuff…

A little more focus on music could really make a difference .
The Barometer
Design

Website

Mini Bar

Life Changing

Environmental Consciousness

Overall Value
Night's Sleep

Service

Amenities

Stealable Stuff

Refer a Friend
Total: 42/50
Important Bits
Type

Luxury Eco Lodge on the Nambiti Plains Game Reserve

Vibe

Comfortable luxury – you feel like you are on safari and immersed in Africa…but far from roughing it.

Location

Just outside the middle of nowhere.

Rooms

5 Suites, 10 Beds

Music

Whatever your lodge host feels like playing, in my case a mix of Chris Issak, Shania Twain and Mango Groove.

Year Opened

Not sure the year but fairly new, 2 years at most.
Pool/Gym

No gym, but a pool that wild elephants love to come drink from!

Restaurant

Yes, amazing menus are listed daily on a chalkboard in the lodge and chef can modify based on your dietary needs.

Bar

Yes

Wifi

Yes

Children

Totally welcome.

Price

Pricey but includes everything but booze.
The Cheetah Project
R75, Kirkwood, 6120, South Africa
where you can actually touch cheetahs, leopards and other cats that are in rehabilitation.
Ardmore Ceramics Gallery
Caversham Road, Lidgetton, KZN, South Africa, Lidgetton, 3270, South Africa
on the drive back to Durban in a cool artsy area in the Drakensberg, helping local artists with a focus on aids relief
Sheffield Beach near Durban
SHEFFIELD BEACH
for that quiet beach action
Nambiti Plains Lodge
Ladysmith, South Africa