The Parsonage
Where:San Francisco

Why:Gastronomic weekend in San Francisco and Sonoma.

When:January 2014

Who:With Mr Tieghi-Walker
Bits and bobs on the fireplace in our room.
So the Parsonage is really cozy and felt more like staying in a tasteful country home rather than a guest house in central San Francisco.
The house has only been lived in by two families in its 130-year history. Lots of serious portraits like this watching over you.
Woah! I love the murals in the breakfast room!
The couple collects tin toys, which even found their way into our bathroom.
We spent most of our time gorging in the nearby cafes and restaurants, but when we fancied down-time the parlour was the place.
Bar Tartine, just 4 blocks from The Parsonage, is the newest addition to chef Alice Waters' Mission district food empire. Rainbow trout brunch – hits the spot.
If you fancy getting out of town, Carmel-by-the-Sea is a sleepy artist's town just down the coast. Really great food spots, especially during crab and abalone season.
Highs & Lows
The house is dreamy – impeccably decorated with traditional colours, textures and furniture joined by modern art and interesting collections.

The rooms are HUGE. We slept in a four-poster and the marble bathroom was a good 2-minute walk away. We had a sofa each to nap on during the day.

Owners Joan Hull and John Philips are attentive to every need but also very respectful of your own time. They're also just bloody cool and full of good information.

Breakfast is very important. We sat down in the Chinese-wallpapered breakfast room for stewed apples, homemade jams, morning soufflé and freshly squeezed tangerine juice.

While the hotel is in the smarter, more bohemian Hayes Valley district, just one block away is Mission… the epicenter of San Francisco's food scene, abuzz with good shops, cafes, bars and restaurants.
Being a guesthouse, amenities are simple – no mini-bar, restaurant, gym etc. But with San Francisco just over the threshold you won't feel like you're missing out
The Barometer
Design

Website

Mini Bar

Life Changing

Environmental Consciousness

Overall Value
Night's Sleep

Service

Amenities

Stealable Stuff

Refer a Friend
Total: 44/50
Important Bits
Type

Historic guest house

Vibe

Romantic Victorian decadence.

Location

At the top of Valencia Street in the Hayes Valley/Mission neighbourhood, seconds from San Francisco's best restaurants and bars (this was taken into consideration when we booked).

Rooms

5, each completely unique.

Music

Blissful silence.

Year Opened

1983

Designed By

The landmark house was built in 1883 and has been lovingly restored by current owners Joan Hull and John Philips.
Pool/Gym

No.

Restaurant

No, but an incredible multi-course breakfast.

Bar

No.

Wifi

Yes.

Children

They'd have fun playing hide and seek!

Price

Fairly priced for such a beautiful hotel.
Mission Chinese
2234 Mission St. San Francisco, CA
No trip to Mission would be complete without a meal at Mission Chinese, serving Americanized Oriental food under the careful guidance of food pioneer Danny Bowien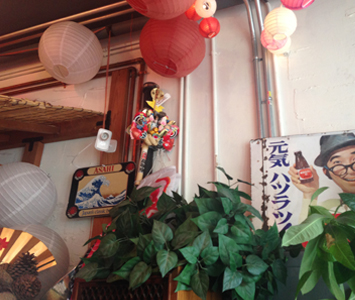 Ken Ken Ramen
3378 18th St. San Francisco, CA
just around the corner from Mission Chinese, serving soups and curries surrounded by vintage Japanese film posters, plants and paper lanterns
Take a drive
2100 Denmark St., Sonoma, CA
If you get the chance, drive the 40 minutes over the Bay to Sonoma, wine county. We stopped off to visit friends who own the Scribe Winery, a blissful little patch specializing in Riesling, fermented Chardonnay (really good) and Pinot Noir.
The Parsonage
198 Haight Street, San Francisco, CA