COMO The Halkin
Where:London

Why:Quick work trip to London

When:February 2018

Who:Me
The facade, which is also the logo of the hotel.
The bar/cafe on the first floor is the perfect place to spend an afternoon.
I loved how the doors to the room are almost hidden, it lends itself to the sense of privacy you get here.
So cozy.
It's such a simple but relaxing room.
Huge bathroom. I only used the shower, but there were bath salts included if I really wanted to indulge (another nice touch: heated towel racks).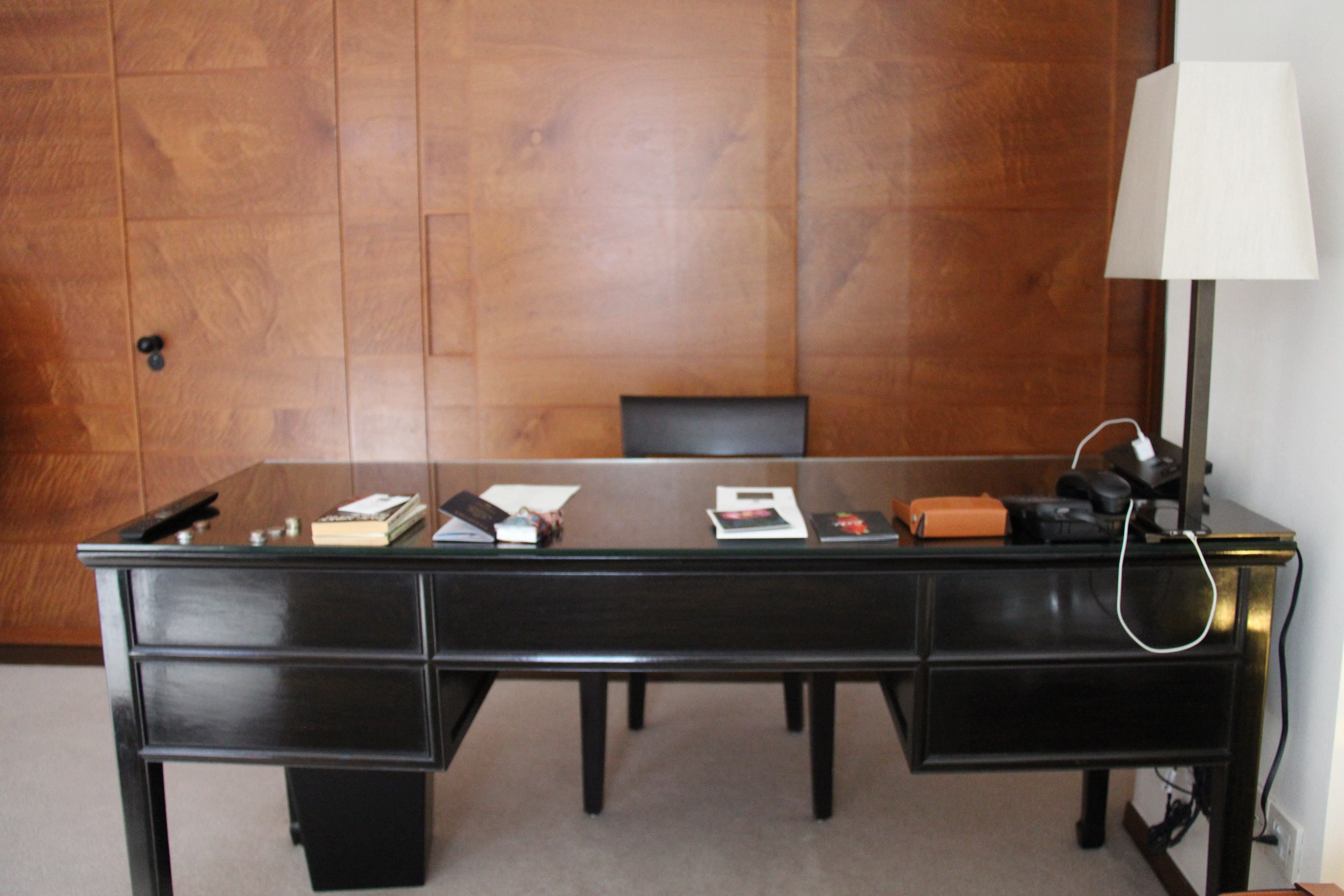 I loved having this huge desk in my room, I sat here most of the time while working.
There are mirrors in the corners, in case you needed more sense of space.
Outside the elevators; the artwork here is subtle but tasteful. Like I said, the hotel doesn't really impose itself on you. It's not the center of attention, you are.
Typical buildings in Belgravia. All off-white, all beautiful.
You can find some charming little nooks in Belgravia. This was a bar I stumbled on (and I liked the contrast of the brick and the teal door next to all the white buildings).
A few of the rooms at the COMO Halkin have balconies.
I had the full tasting menu at Ametsa, which Chef Ruben Briones altered to accommodate my vegetarianism.
There were so many amazing dishes, with this serving as the finale: La Pasion del Chocolate.
That cozy bed comes super handy when you're in a food coma after Ametsa.
Highs & Lows
It's a hotel of subtle charm. The hotel never gets in your way - you just find yourself feeling peaceful and at home.

It's a great place to get work done. Clearly there were some business people around, but even for creative work I felt so comfortable and without distraction, something you wouldn't get at some of the new, trendy hotel chains.

It's also completely relaxing. I loved my spacious room and barely left it; I could have just stayed in for days.

The staff was amazing. Valeria was my go-to person for requests but everyone was just as warm and friendly.
Belgravia is beautiful but a little quiet. It worked for me, but don't come here looking for a scene.

I felt a little out of place in my jeans and Doc Martens, but the staff couldn't care less. You should know the vibe of the place, but I would still recommend it to artist-types who are seeking a respite.
The Barometer
Design

Website

Life Changing

Environmental Consciousness

Overall Value
Night's Sleep

Service

Amenities

Stealable Stuff

Refer a Friend
Total: 48/50
Important Bits
Type

Luxury hotel

Vibe

Relaxed contemporary luxury

Location

Belgravia, which is very wealthy but also very pretty

Rooms

41

Music

Very soft, but mostly quiet throughout the hotel

Year Opened

1991

Designed By

Laboratorio Associati
Pool/Gym

Gym

Restaurant

Ametsa, headed by Reuben Briones, is a Michelin Star restaurant celebrating its 5th anniversary. The Spanish-influenced tasting menu is a must.

Bar

Also has a Spanish influence, worth trying some of the cocktails

Minibar

Pretty standard

Wifi

Yes

Children

Yes, but they might be bored in this neighborhood

Price

Luxury, but good considering the neighborhood
Hyde Park
Hyde Park, London, UK
If you're there when the weather is warm, a jog around Hyde Park would be a great workout.
The Horse and Groom
The Horse & Groom, Curtain Road, London, UK
A charming little pub in Belgravia. When in London...
Harrod's
Harrods, Brompton Road, London, UK
When you see all the sharp suits in Belgravia you might be tempted to go shopping...
COMO The Halkin
COMO The Halkin, London, Halkin Street, London, UK