Enchantment Resort
Where:Sedona

Why:Springtime retreat

When:May 2015
Design details.
Casita Junior Suite living room, complete with beehive fireplace, a small outdoor patio and charming Southwest flair.
King sized bed.
Every single hotel in the world take note- not having to crawl under a desk or shimmy behind the bed to plug in personal electronics means everything to me.
The dramatic, sculptural entrance to Mii amo spa feels like a Richard Serra sculpture...on Mars.
One of three pools. Can you even handle that backdrop?
The entrance to the Crystal Grotto. Whether or not you have an ounce of spirituality in you, starting the day with their quick intention ceremony might change your morning ritual for good.
Beautifully presented edamame with a trio of salt at Mii amo Cafe.
Setting off on a hike. Sedona is widely known as a spiritual power center. The Boynton Canyon Vortex, a short hike from the property, is said to strengthen the masculine/feminine or yin/yang balance.
Our knowledgable guide walked us through the fascinating history of the area's native culture. Here he shows us an example of primitive sandals made from the yucca plant.
Just casually sampling berries off of trees. What could go wrong?
"Diamonds in the Rough", an exhilarating and challenging women-only mountain biking excursion was a major trip highlight.
The open kitchen at Mii Amo Cafe.
View 180 earns its name during sunset cocktails.
The most vividly colorful and delicious charcuterie plate that ever was.
And speaking of vivid, the pricky pear margarita (right) will light up your life.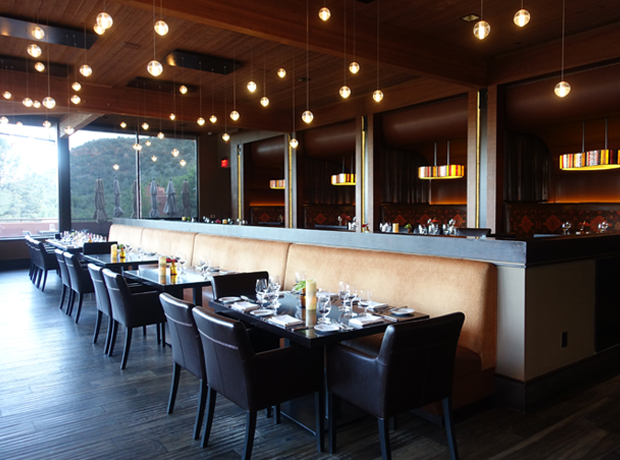 Che-Ah-Chi dining.
Welcome to Enchantment...so lovely the way the architecture blends in with the landscape.
Highs & Lows
The location embodies everything the phrase "America the Beautiful" is about. The way the resort is so gracefully tucked into the canyons creates an unmatched, almost otherworldly environment.

Their activities offering reads like a university course catalog...from mind, body & wellness programs to hiking, biking and tennis, there's so much to do and explore. Some of the more unique highlights include stargazing, chanting...even gourd decorating!

Mii amo Spa is an experience in and of itself and on my next trip I won't be able to pass up one of their all-inclusive 3, 4 or 7 night spa packages.

The resort is a good two hour drive from Phoenix airport, but worth the seclusion from anything urban or fast paced.
The Barometer
Design

Website

Life Changing

Environmental Consciousness

Overall Value
Night's Sleep

Service

Amenities

Stealable Stuff

Refer a Friend
Total: 48/50
Important Bits
Type

Luxury Resort & Spa

Vibe

Luxury meets spirituality amidst one of America's most stunning backdrops.

Location

Situated on 70 acres at the foot of Boynton Canyon's stunning Red Rock formations. It's a 2 hour drive from Phoenix, and just 2 hours south of the Grand Canyon.

Rooms

218 at Enchantment & 16 at Mii amo, the property's destination spa.

Music

None that I can recall.

Year Opened

1987

Designed By

Gluckman Mayner were the design architects for Mii amo, which has won the American Architecture Award given by the Chicago Athenaeum Museum of Architecture.
Pool/Gym

Gorgeous indoor and outdoor pools, a state of the art gym and classes ranging from yoga & meditation to bootcamp & barre. Golfers can tee off at the newly remodeled and picturesque Seven Canyons course.

Restaurant

Four dining experiences all focused on locally sourced ingredients and creative menus. Che-Ah-Chi is the more formal of the bunch, serving contemporary American cuisine with a Southwest touch, View 180 features tapas and lighter bites, Tii Gavo is the ideal lunch spot, featuring casual fair like tacos and burgers, and Mii amo Cafe serves an organic, spa-style menu.

Bar

View 180 is the place to be for sunset cocktails like the photogenic and delicious Prickly Pear Margarita, and their Wine Bar features one of the largest selections of Arizona wines.

Minibar

Nothing official, but some delicious fruits, cheeses and crackers were there at check-in along with a nice bottle of red.

Wifi

Yes. A bit slow in the rooms but consider it encouragement to get off the laptop and go outside!

Children

Many activities including junior and family tennis, and Camp Coyote for kids aged 4-12.

Price

Affordable Luxury
Women's Only Mountain Biking Excursion
Enchantment Resort, Boynton Canyon Road, Sedona, AZ, United States
Test your skills on stunning and challenging trails without the pressure of keeping up with the daredevil dudes in your group.
Hike the Red Rocks
Red Rock State Park, Sedona, AZ, United States
The fanny pack is optional but experiencing an energy vortex is a must.
Melt the day away at Mii amo Spa.
Enchantment Resort, Boynton Canyon Road, Sedona, AZ, United States
The Prickly Pear Butter Wrap is a great alternative or add on to a traditional massage...blissfully relaxing and leaves your skin softer than ever.