The Surf Lodge
Where:Montauk

Why:A summer weekend.

When:July 2015

Who:Me and pals.
Me.
Artist Jen Stark painted the outside of the hotel in this awesome rainbow formation as part of an installation earlier this summer.
Lessons on how to make an old motel look super cool.
Waking up to this view is pretty sweet.
Each room has a speaker, so you can plug your phone in.
Pretty solid mini bar selection. Nothing 'mass market' here. Those gummies are insanity, BTW.
The wooden sinks in the bathrooms are everything!
Not mad at these products.
Guests in these rooms enjoy lakefront decks with hammocks.
The single story row of hotel rooms all have cute decks in both the front and back.
The sunken seating area in the lobby.
Lounge area in the restaurant for eating. The food is Australian-inspired fare with a ton of seafood options. The crab linguine is amazing, FYI.
The indoor area at the restaurant .
Breakfast is served in these cute tin boxes. So perfect for an early beach picnic!
There are paddleboards available to guests.
The hotel store Surf Bazaar has a ton of awesome beachy clothes and accessories.
A bunch of great beaches are within minutes of The Surf Lodge.
Views of The Surf Lodge from my room's front deck.
Highs & Lows
The rooms are adorable and remarkably peaceful, even during the busiest weekends.

Some rooms have showers that overlook Fort Pond. A more relaxing shower you will not find.

Surf Bazaar, the hotel store, is awesome.

You don't have to leave the hotel to have a great night out, you just walk across the parking lot. You also get to use your own bathroom instead of waiting in line.
Blackout drapes would offer welcome respite after a night on the rosé.

It's one of the busiest hangouts in town and the door can get crazy on the weekends. If you want a quieter experience, go Monday to Thursday.
The Barometer
Design

Website

Life Changing

Overall Value
Night's Sleep

Service

Amenities

Stealable Stuff

Refer a Friend
Total: 49/50
Important Bits
Type

Motel-turned-beachy boutique lakeside lodge.

Vibe

Weekends are one giant summer party, catering to visitors from New York City, while weekdays are much more chill and local.

Location

It's a short hop from Montauk town center, but without a sidewalk it's safer to take a taxi or ride bikes into town.

Rooms

21

Music

Music is a huge part of The Surf Lodge, with acts such as Leon Bridges, The Flaming Lips and Lolawolf performing this summer on the deck. DJs keep it upbeat and fun with hip-hop and indie pop.

Year Opened

2008

Designed By

Robert McKinley
Pool/Gym

Classes are offered all weekend long free of charge. From beach bootcamp to morning yoga on the deck and dance body, there's a little something for everyone.

Restaurant

Yes – Chef Chris Rendell created an Aussie-inspired menu. The scallops and Thai red curry are highlights. If you're not into a whole sit-down dinner thing, the chicken fingers and fries are just what you need with a glass of rosé on the deck too. Believe it.

Bar

Yes, the indoor bar is small and fills up for dancing after dark, but most of the social action happens on the giant deck and sand-covered beach area outside

Minibar

Sunscreen, snacks, boxed water, rosé wine (of course) , condoms and emergency knickers for all the last-minute sleepovers that invariably happen after a night at The Surf Lodge.

Wifi

Yes, it's free.

Children

It's more of an adult playground TBH.

Price

Not the cheapest, but comparable to other hotels in town
.
The Surf Lodge
Mate Gallery Pop-Up, 183 Edgemere St, Montauk, NY 11954
Ditch Plains Beach
10 Deforest Rd, Montauk, NY 11954, USA
Head here to watch surfers tackle the Montauk waves.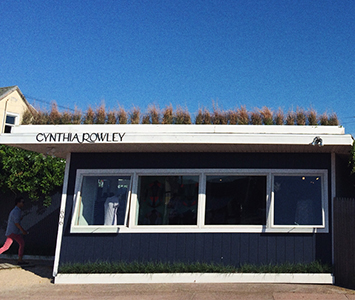 Cynthia Rowley
Cynthia Rowley, 696 Montauk Hwy, Montauk, NY 11954
The designer is a long-time Montauk summer resident and her store is one of the best places in town to shop.
The Surf Lodge
The Surf Lodge, 183 Edgemere St, Montauk, NY 11954