TUVE
Where:Hong Kong

Why:Because I was in town for Hong Kong Fashion Week and the TUVE is the best hotel on the planet earth.

When:Early September.

Who:Just me.
The blink-and-you'll-miss it Tuve is situated on a bustling street lined with bakeries and dim sum restaurants. Oh, and notice the bamboo as construction scaffolding, which I love!
Here's the ethereal hallway to my room.
My home for one night only.
Losing-my-marbles-in-the-bathroom-selfie.
Dream bed.
Cool light.
Noted!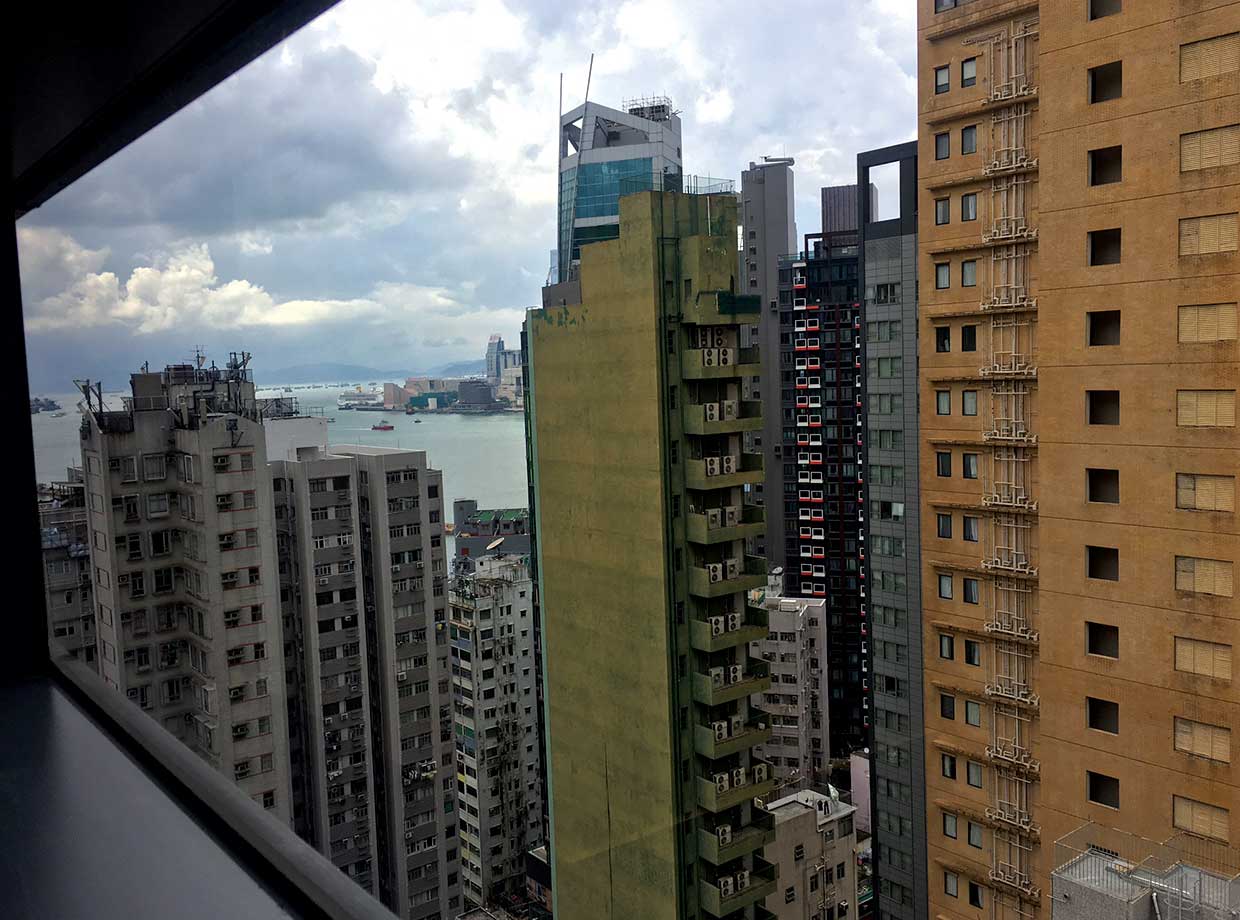 Let's discuss that view.
Here's where I pretended to do work.
Glowing floors, gorgeous furniture.
Good morning!
Mourning over the morning. I really don't wanna leave.
Don't make me go.
But I must. Here's my feet on the elevator's marble floors. Tuve loves a marble moment.
Goodbye Tuve, you sophisticated surreal thing. The exit to the real world.
Highs & Lows
Fantastic views and incredible natural light!

Literally the best bed and pillows.

The hotel smells so good. Seriously. I don't know what's pumping in the elevators but it's intoxicating in a zen kind of way.

The room design details. Marble bathroom. Light fixtures. Bed. Furniture. And that quirky contraption of a mini bar.

The mood and design of the entire hotel. From the spooky chic lobby to the hidden blink-and-you'll-miss-it gated entrance.

The non-touristy neighborhood. It feels so authentic. So colorful. So many cheap bakeries. Sensory overload. And it's way less crowded compared to the neighboring Causeway Bay. I could/want to live here.

Superb customer service.

The bathrobe.

The exquisite everything.
The Barometer
Design

Website

Life Changing

Environmental Consciousness

Overall Value
Night's Sleep

Service

Amenities

Stealable Stuff

Refer a Friend
Total: 50/50
Important Bits
Type

TUVE's website actually describes the cinematic hidden gem of a boutique hotel the best: "timeless, placeless and genderless" and "minimally furnished with finesse." I'm surprised Rick Owens didn't design TUVE/doesn't live here. (I googled Rick's apartment and, like the TUVE, he's clearly very into minimal and marble).

Vibe

This might not make sense, but it's haunting and relaxing at the same time. Super goth chic meets ethereal angelic, kind of hip as heaven/hell.

Location

The non-touristy Tin Hau neighborhood. Bakeries, markets, temples, dumplings, parks. It's all happening. It's fantastic.

Rooms

66

Music

Very whispery tunes involving what sounded like opera singers and hymns over dreamy industrial beats. Exquisite, tbh.

Year Opened

2015

Designed By

Rick Owns. Just kidding. Design Systmes Ltd.
Pool/Gym

No. Put on your sneakers and explore. Take a jog in the super close Victoria Park!

Restaurant

The stylishly casual and intimate SILVER ROOM, serving Italian dishes and located on the ground floor.

Bar

No, but the mini-bar has got you covered.

Minibar

Yes

Wifi

Yes and it's free.

Children

Please no! It's so zen inside. Let's keep it that way.

Price

Not too bad for what it is. And it's everything.
Sister Wah
Sister Wah Beef Brisket, Hong Kong
Cheap, authentic hole-in-the-wall. Get the beef brisket and the Wonton soup.
Get your prayer on
Tin Hau Temple, Shanghai Street, Yau Ma Tei, Hong Kong
At Yau Ma Tei Tin Hau Temple.
Victoria Park!
Victoria Park, Hong Kong
Don't forget SPF and loads of water.
TUVE
TUVE, Hong Kong