Sixty Soho
Where:New York

Why:A little birthday jolly.

When:March 2015

Who:My friends and I.
More Blue Logan designs on the room keys.
This bed may look unassuming but it was insanely comfortable.
The symmetry of the doors on either side of the TV was very relaxing, we love balance.
The new décor is contemporary with a vintage twist, although it's minmal, the abundant textures like the grasscloth walls and velvets make it so cozy and comfortable.
No shortage of drinks and stemware options in the mini-bar.
Any minibar with Tates cookies is fine by us.
Controversial choice of short robes!
It's always better to have a separate bath and shower.
There are Ren products in the bathroom.
The typography was done by British illustrator Blue Logan and feels very New York.
The suite can be made private by pocket doors, which we liked a lot.
Another controversial choice: thong slippers! They're actually really comfy.
The balcony: giving you classic New York Soho fire escape views.
Best part about the bathroom was the pocket door for privacy. That way you can close that one and the main bathroom door. Your romantic getaway will be saved of any awkward loo noises!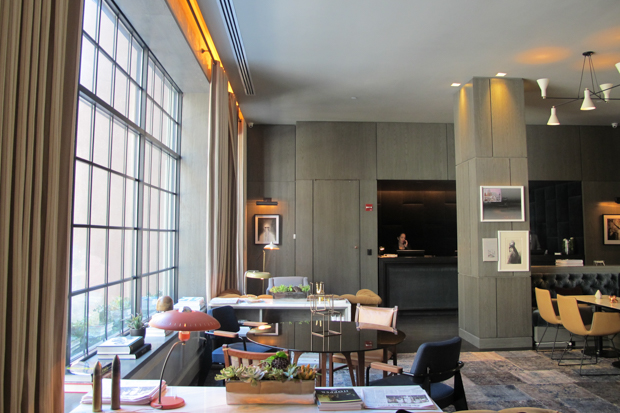 The second floor lobby has been completely overhauled and they have such a good vibe.
Books: the best kind of decor.
In the bar area there are a few private nooks and booths.
Art by British artist Harland Miller created and curated art for the walls.
Bar.
This piece made us smile.
The street level entry has been made to feel as comfortable as the main lobby.
Something about this façade feels warm and welcoming.
My room was a little suite, that sofa pulls out too.
Highs & Lows
The design blends contemporary and mid-century perfectly.

The staff – so accommodating and helpful without being in your face.

Amazing, amazing location in New York.
The bathrooms felt dated.
The Barometer
Design

Website

Life Changing

Environmental Consciousness

Overall Value
Night's Sleep

Service

Amenities

Stealable Stuff

Refer a Friend
Total: 46/50
Important Bits
Type

Luxury boutique hotel.

Vibe

Maybe our favorite aspect of the hotel was how easy and chill the vibe was. Cool but inclusive.

Location

Perfectly located in Soho. It doesn't get any better.


Rooms

97

Music

There was a DJ in the bar at night but it didn't get in the way of our conversation.

Year Opened

2001 but it re-opened post renovations in February 2015.

Designed By

The owners (Pomeranc brothers) and Tara Bernerd.
Pool/Gym

No

Restaurant

It hadn't opened yet but it's called Sessanta and is coastal Italian fare by John McDonald of Lure Fishbar, B&B Winepub, El Toro Blanco and more.

Bar

Really comfortable and mixes mid-century and contemporary style. It feels young but not desperate to be cool or anything.

Minibar

Loads of stuff! So much so they had two sides, with a billion choices from Justin's peanut butter cups to M&Ms to Tates cookies.

Wifi

Yes

Children

We didn't see any but it's probs fine.

Price

Rooms from $279.
MoMA Store
MoMA Design Store / MUJI at MoMA, Spring Street, New York, NY, United States
One of the best stores in the hood for books and home design items.
Veda
19 Mercer St, New York, NY 10013
You have to ring the bell to get in, but when you do prepare for a wold of amazing leather jackets and the coolest clothes.
Raoul's Restaurant
180 Prince St, New York, NY 10012, United States
It's a New York institution and the French fare is outstanding.
Sixty Soho
SIXTY SoHo Hotel, Thompson St, New York, NY 10012, United States