The Bowery Hotel
Where:New York

Why:R&R. Why? Because I'm worth it.

When:On a freezing Thursday night.

Who:Just me, myself, and I.
Watch the throne! AKA one last lobby selfie before I must go… :(
There again is that bellboy. Very nice branding, Bowery Hotel. I forgot to steal the calendar, but I did take that bottle (thank you!!) home with me. Because my staycation was so 5 stars, I forgive you for calling me MS. Catarinella. (I'm a dude.)
Let's discuss that bed: I could/want to live in it. After lots of room service/mini-bar binging in bed, I hardcore passed out for a good two-hour cat nap.
Then I woke up and took the first of three bubble baths -- two at night, one in the morning. Shout out to those heavenly C.O. Bigelow bath products.
I allowed my friend to swing by in the morning for coffee and fruit plates under one condition: he take a slew of photos of me for Instagram in the bubble bath. PS: apologies to neighbors for keeping the curtains open during the bubble baths, but I just couldn't deny that killer Manhattan skyline view.
More coffee, please.
Here's me pretending like I'm doing work.
Here's me being very happy. You'd be too. Again, THAT VIEW. I <3 NYC.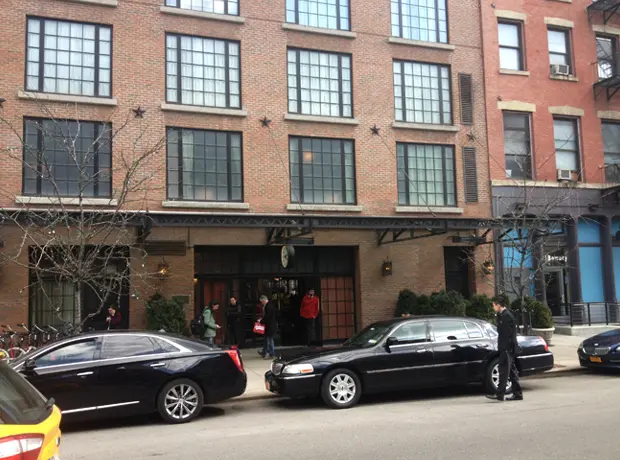 I decided to stand in the middle of the street to take this photo.
Almost time to check out. I then work my charm and they offered me a late check out. :-)
The hotel's restaurant, Gemma, is always on point -- try any and all pasta dishes, pizzas, wines, desserts, the (polenta!) fries and cheese/meat plates. You can't and won't go wrong. It's always popping off with cuties. The decor is on point too: the New York Times summed it up best with "Gemma loves candles the way Liberace did." Go in the spring/summer or whenever the weather gets its shit together so you can sit outside and people watch.
If Gemma is too crowded for you, head to the back of the lobby for their outside garden terrace, where you can drink, eat, and chain smoke. I'm there at least once a week.
The Bowery Hotel is all about the details. Like the red key tassels... so cute! The receptionists are top notch, by the way. Thank you for the toothbrush and the extra Marvis toothpaste.
Good morning. The very polite and perpetually foxy bellboys indeed rock a red blazer and top hat.
Highs & Lows
If you're into the downtown fashion-y scene or just wanna be a part of it for a night or two, this is your place. Example: I've seen both Rosario Dawson and Alexa Chung chilling in the dim lit lobby bar countless times on previous visits. As for this stay, I saw an Olsen exiting the hotel during one of my cigarette breaks. Also, in the morning on another cig break before check out, paparazzi were chilling on the sidewalk waiting for someone special who was not me.

The food is amazing and room service is 24/7. The mini bar is on point too. I may or may not have consumed an entire jar of olives and caramel corn.

It's my favorite hotel lobby in the city, decorated like my dream apartment. A really great spot to do work on your laptop or read a book during the day whilst munching on a caprese salad or such. At night, try to grab a couch with your homies and drink it up either for a pre-game or for a nightcap after the club. Did I mention there's a fireplace?

When you book your room, I suggest getting a corner room like I had because of the priceless views. Incredible natural light.

The bed and the bath = so heavenly. Bed, bath and BEYOND, for real.
There is not a pool, but I don't swim anyway. My only semi complaint is I wish the Bowery would open the rooftop for smokers. Can you imagine those views?! (Actually, I can. In my younger years, I may or may not have snuck up there a few times. DM me for tips on how to do this.)
The Barometer
Design

Website

Mini Bar

Life Changing

Environmental Consciousness

Overall Value
Night's Sleep

Service

Amenities

Stealable Stuff

Refer a Friend
Total: 47/50
Important Bits
Type

Luxury boutique hotel.

Vibe

A super downtown fashion world kind of scene, albeit in a chill way. There's no one dancing and spilling drinks -- it's all about lounging on the sofas and having an inebriated laugh.

Location

335 Bowery. My favorite part of town.

Rooms

135 rooms

Music

It's low, if there is any at all. It's better that way… to eavesdrop on the designer-clad folk hanging in the lobby and all of that fun stuff.

Year Opened

2007

Designed By

Designed by owners Sean MacPherson and Eric Goode. Besides the hotel bed and tub, I want to own everything in the lobby -- the plush couches, the light fixtures, the carpets, the fireplace. Give me everything.
Pool/Gym

No pool, but there's a fitness room.

Restaurant

Yep. Gemma. One of NYC's finest.

Bar

Yes. Very charming, sexy, fun, hip, etc., etc. Great for pre-gaming, a date or a nightcap or three.

Wifi

Yes and free and fast.

Children

Please don't. But according to the site, there's a babysitting service.

Price

Typical for the location and the hotel's level of greatness. Worth it, but if you can't afford it, just chill in the lobby for a few drinks and a cheese plate (and celeb sightings if you're into that).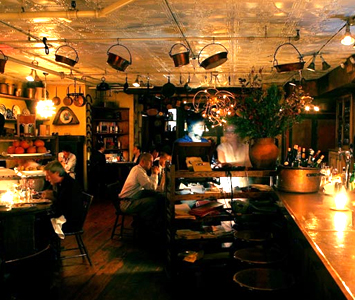 Il Buco
47 Bond St, New York, NY 10012
If you wanna switch it up from eating/drinking at the hotel restaurant, Gemma, you can walk across the street to my favorite street in the city, Bond Street, and eat at Il Buco.
The Smile
26 Bond St, New York, NY 10012
Also on Bond Street: grab brunch at my go-to spot, The Smile. I suggest the fig and
havarti sandwich.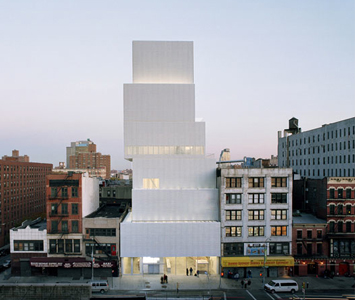 The New Museum
235 Bowery, New York, NY 10002
Definitely check out The New Museum, which is a few blocks down on the Bowery, too.
The Bowery Hotel
335 Bowery, New York, NY 10003, United States