Shinola Hotel
Where:Detroit, Michigan

Why:The new Shinola Hotel is so great who could resist a visit to Detroit in February?

When:February 2019

Who:Me, my wife and daughter.
I walked in and was met with an exquisite custom-woven, four-wall, floor-to-ceiling tapestry by Detroit artist, Margo Wolowiec and welcomed by a friendly front desk team.
Enough said. This speaks to Shinola Hotel's pride in its city.
Eating at San Morello is a definite highlight to staying at the Shinola Hotel. For breakfast, I enjoyed a heavenly serving of rustic potatoes and a cold-pressed juice from Drought, a local Detroit juicemaker.
Nothing beats a view of downtown Detroit while soaking in a hot bath. The bathroom wallpaper is inspired by the caseback details of Shinola's timepieces, and is a reminder that every detail is important at this hotel.
Simplistic and elegant in its design.
It's in the amenities the hotel offers, such as plush bathrobes made specifically for Shinola, that add to the luxurious experience.
The bathrobes are indigo-dyed navy terrycloth with a hood and 'Detroit' written on the back. I feel like a boxer when I wear it. And yes - they are for sale!
After a day of exploring the city, I returned to a bed dressed in 100 percent cotton, 300-thread-count, Italian Frette linens found in the most luxurious, European hotels -- resulting in the best sleep ever!
The views of downtown Detroit can be found on either side of the room.
Highs & Lows
Location - right in the heart of downtown Detroit, the hotel is perfectly situated to encourage you to explore the city's rich history. Ask the staff for suggestions - I found them to be very welcoming!

Art - upon entering, you will find a collection of art on the walls of the Living Room of the hotel. Whether you choose to pass through or sit and grab a drink in the space, the art will leave you energized and inspired.

Design - Shinola Hotel offers a unique experience - it feels residential, yet luxurious and it all takes place in two historical buildings. Shinola Hotel is a uniquely Detroit experience, so if you've never been to the Motor City, this is to the place to stay!
The Barometer
Design

Website

Life Changing

Plastic Free

Overall Value
Night's Sleep

Service

Amenities

Stealable Stuff

Refer a Friend
Total: 50/50
Important Bits
Type

A mid-century modern paradise that combines a legacy of craftsmanship and timeless design with the true spirit of Detroit and hospitable service all curated in a luxury, boutique hotel.

Vibe

Cozy and modern chic meets timeless elegance.

Location

The location is central, nestled in the heart of historic downtown Detroit. By walking a few feet outside, I am met with specially-curated shopping options at Parker's Alley, a retail alley introducing a mix of global and homegrown businesses.

Rooms

129, with 50 different room configurations providing a unique sense of place with loft-style windows for views of the city and natural light accompanied by thoughtful modern design.

Year Opened

2019

Designed By

Shinola Hotel is the result of a partnership between Shinola and Bedrock, designed by Gachot Studios and Kraemer Design Group. Bedrock, is a local real estate firm specializing in the development of urban cores. The group has a strong presence in downtown Detroit with work that varies from residential to retail spaces to revitalize the city.
Pool/Gym

Gym

Restaurant

Visit San Morello for savory, southern Italian dishes. Treat yourself with a divine Osso Bucco or legendary lamb meatballs. Chef Andrew Carmellini outdid himself here!

Bar

Choose between the Evening Bar, a cozy cocktail lounge or the Living Room for a classic cocktail surrounded by modern art.

Minibar

Yes! Shinola Cola, Great Lakes Chips, Vernor's Ginger Ale (a Detroit classic), and local craft beers.

Wifi

Complimentary WiFi.

Children

Bring the whole family, including the dog!

Price

Luxury, but the experience is well worth it!
The Belt
The BELT, The Belt, Detroit, MI, USA
The Belt is an alley, lined with art on its walls, widely visited for its nightlife offerings. You'll find plenty of bars and dining options on this strip, as well as a crowd of Detroiters!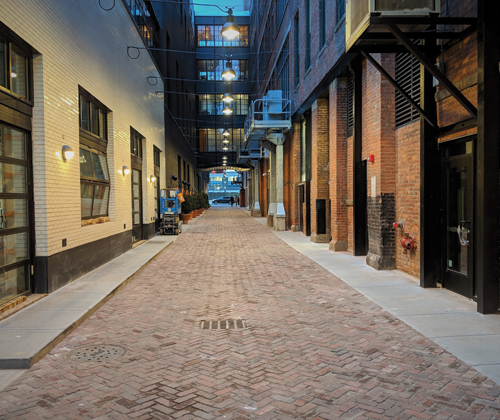 Parker's Alley
Parkers Alley, Detroit, MI, USA
The Shinola Hotel is connected to an alley you can stroll through where you will be met with a mix of shops and homegrown businesses. Don't forget to visit the Shinola store!
Library Street Collective
Library Street Collective, Library Street, Detroit, MI, USA
Here you will find groundbreaking and contemporary exhibitions on display. You will be inspired by work that pushes the boundaries and contributes to Detroit's creative presence. Do not leave Detroit without stopping by!
Shinola Hotel
Shinola Hotel, Woodward Avenue, Detroit, MI, USA